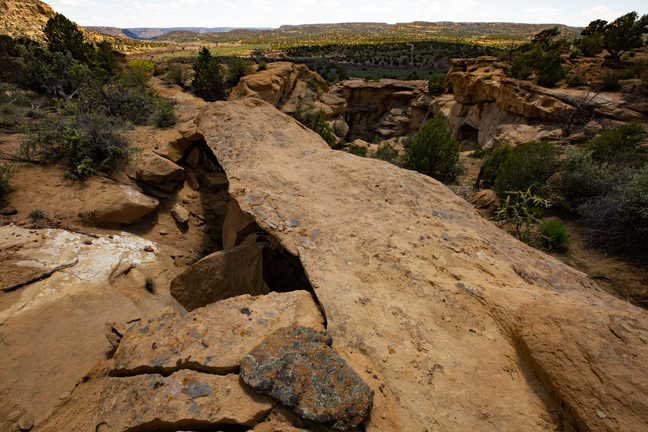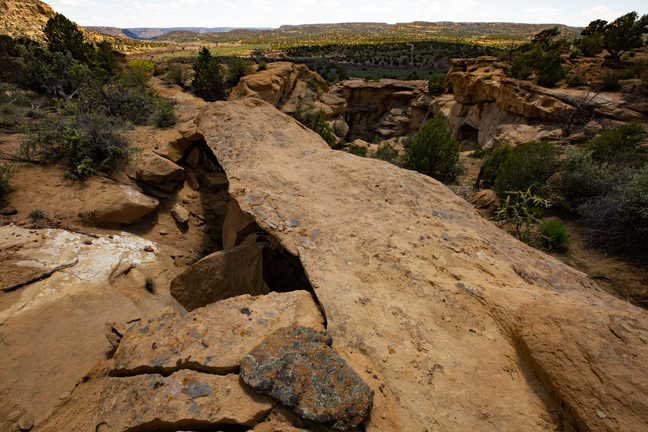 May 2019: NM-277, Arco Fantastico, Pump Canyon, San Juan County, NM

A few years ago, I joined the Natural Arch and Bridge Society (https://www.naturalarches.org), a small all-volunteer non-profit organization promoting the study, appreciation and preservation of natural arches and bridges. That might seem pretty random for a child of the Midwest who spent his entire 40-plus year academic career on the east coast who didn't know the difference between a natural bridge and a natural arch, but that's how romantic notions are born.

Within a few months I was designing and editing their quarterly four-color publication, SPAN, and my vocabulary had quickly expanded to include words like lintel, abutment and morphologic. I began studying the World Arch Database (https://arches.stonecanyonadventures.com) and now we rarely drive anywhere without first logging UTM Coordinates, downloading a .gpx file and planning a detour to see and photograph this or that arch. That is a privilege that retirement allows.

A year ago, we attended our first arch rally and last week we joined almost one-third of the organization's members in the San Juan Basin Badlands in the northwest corner of New Mexico, a high desert plain crossed by shallow tributaries of the San Juan, Chaco and Puerco Rivers. The rally, of course, focused on visiting the hundreds of natural arches and bridges, easily accessed via the area's gas and oil roads, but also included wilderness hikes into the Bisti, De-Na-Zin and Ah-Shi-Sle-Pah Badlands.

NABS rallies are not designed for photographers, but that is OK. We most often reach destinations in the harshest light at high noon and people with point and shoot cameras scramble in and out of my frame like a herd of cats. I can always return when the sky is pink, the light is soft or the stars are bright. It's all still beautiful and the challenge of making good pictures in bad light is just a different kind of fun.

Special thanks to Peter and Larry for keeping us on the trail and to Cynny who somehow finds most of the hidden arches while I blindly follow the GPS coordinates and walk circles around them.
©Rich Beckman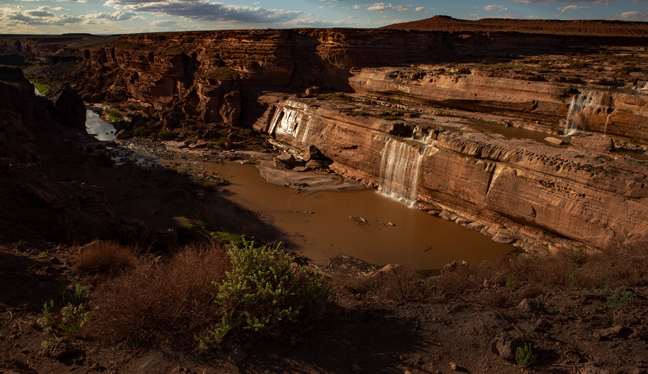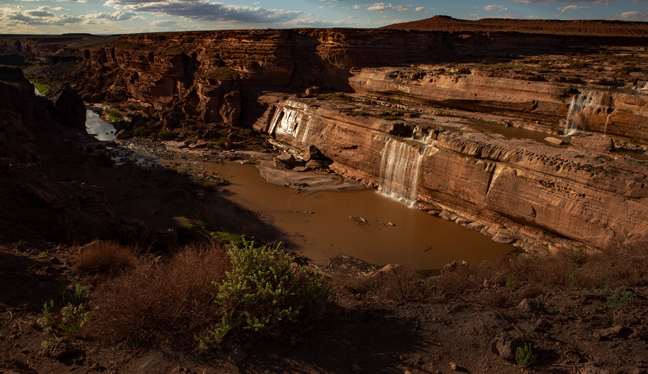 May 2019: Grand Falls, Painted Desert, Navajo Nation, AZ

On our way north, we stopped for sunset at Grand Falls, also known as Chocolate Falls, located on the Navajo Reservation about 45 minutes east of Flagstaff, AZ. It is a seasonal snowmelt waterfall created by volcanic runoff from Merriam Crater along the Little Colorado River.
©Rich Beckman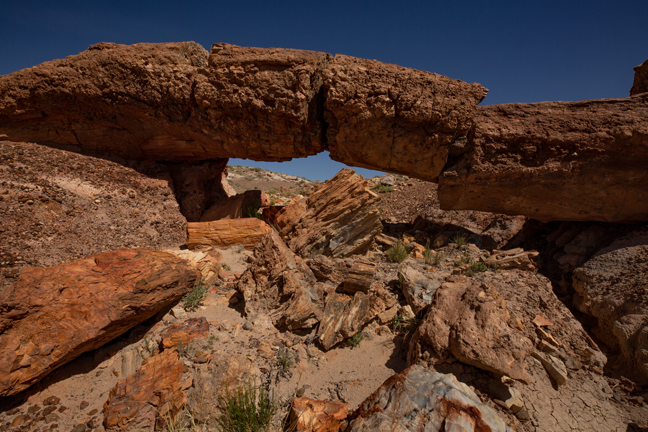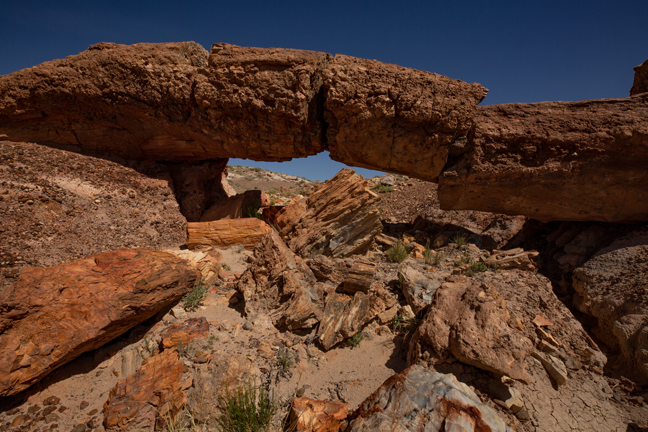 May 2019: Keystone Bridge Natural Arch, Blue Mesa Loop, Petrified Forest National Park, AZ

The next morning before continuing to New Mexico, we went in search of Keystone Bridge Natural Arch in Petrified Forest National Park, east of Holbrook, AZ. Keystone Bridge is an oddity among natural arches in that it is a petrified log found on a ridge-top and does not span a stream bed. The fractures and slippage occurred during the formation of the arch and do not affect its classification as a natural arch.
©Rich Beckman


May 2019: Flying Gator Arch, Bisti Badlands, San Juan Basin, NM

We arrived in Farmington, NM the day before the official start of the rally for a pre-arranged Friday hike with a small group of friends in the Bisti Badlands, an area of unusually eroded rock formations in the high desert of the San Juan Basin. The clayish hills that comprise most of the wilderness are mixed with more erosion resistant sandstone resulting in landscapes composed of hoodoos, balanced rocks, arches, petrified wood and metamorphosed colored rock layers. (1/6)
©Rich Beckman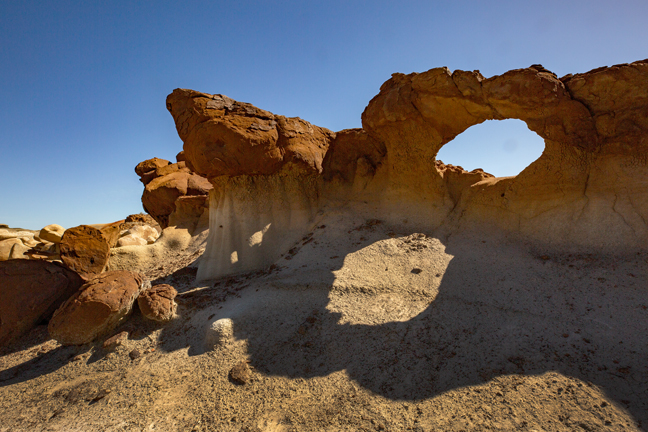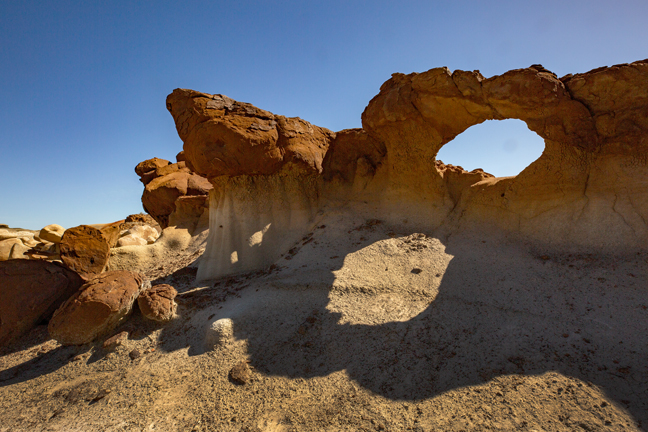 May 2019: Dragon's Head Arch, Bisti Badlands, San Juan Basin, NM

We arrived in Farmington, NM the day before the official start of the rally for a pre-arranged Friday hike with a small group of friends in the Bisti Badlands, an area of unusually eroded rock formations in the high desert of the San Juan Basin. The clayish hills that comprise most of the wilderness are mixed with more erosion resistant sandstone resulting in landscapes composed of hoodoos, balanced rocks, arches, petrified wood and metamorphosed colored rock layers. (2/6)
©Rich Beckman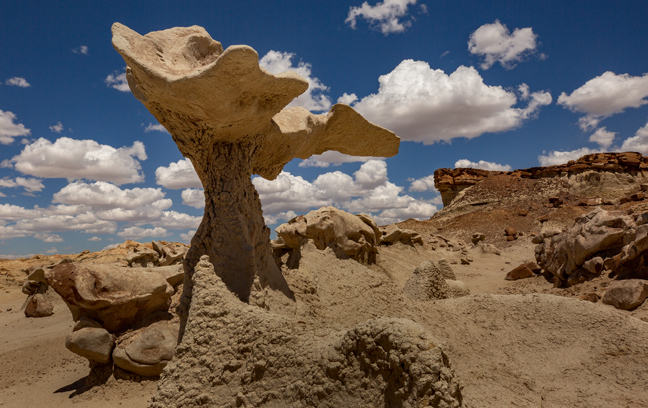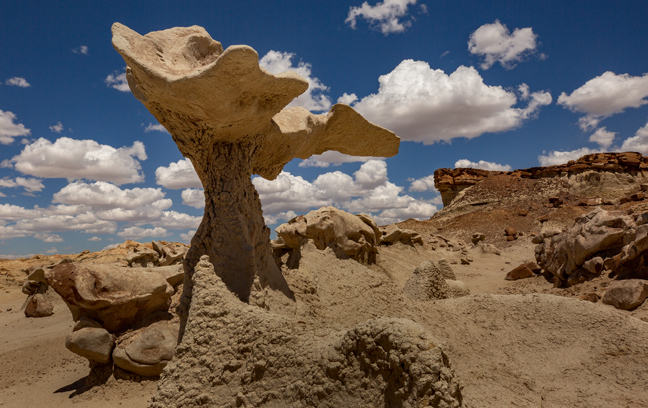 May 2019: Unnamed Formation, Bisti Badlands, San Juan Basin, NM

We arrived in Farmington, NM the day before the official start of the rally for a pre-arranged Friday hike with a small group of friends in the Bisti Badlands, an area of unusually eroded rock formations in the high desert of the San Juan Basin. The clayish hills that comprise most of the wilderness are mixed with more erosion resistant sandstone resulting in landscapes composed of hoodoos, balanced rocks, arches, petrified wood and metamorphosed colored rock layers. (3/6)
©Rich Beckman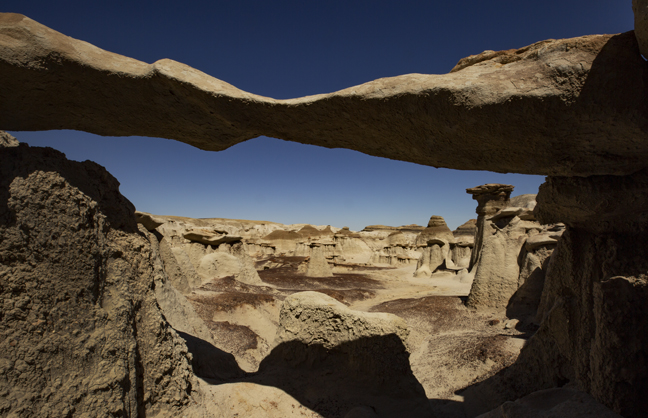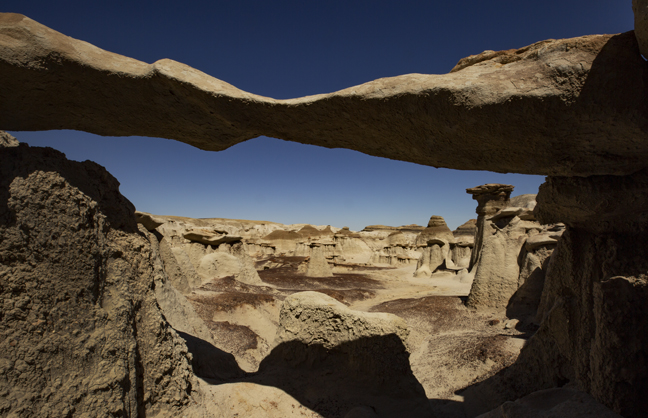 May 2019: Unnamed Arch, Bisti Badlands, San Juan Basin, NM

We arrived in Farmington, NM the day before the official start of the rally for a pre-arranged Friday hike with a small group of friends in the Bisti Badlands, an area of unusually eroded rock formations in the high desert of the San Juan Basin. The clayish hills that comprise most of the wilderness are mixed with more erosion resistant sandstone resulting in landscapes composed of hoodoos, balanced rocks, arches, petrified wood and metamorphosed colored rock layers. (4/6)
©Rich Beckman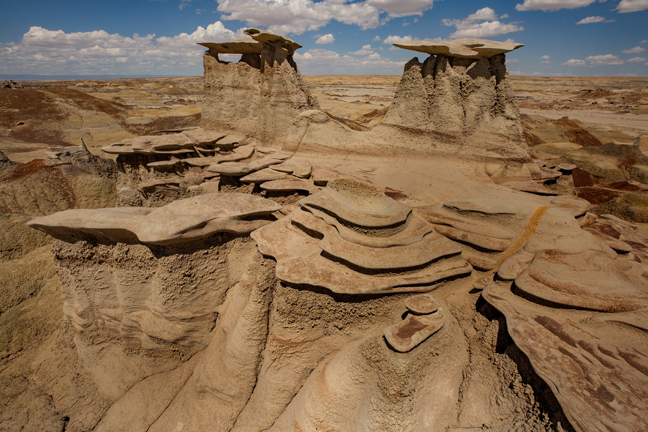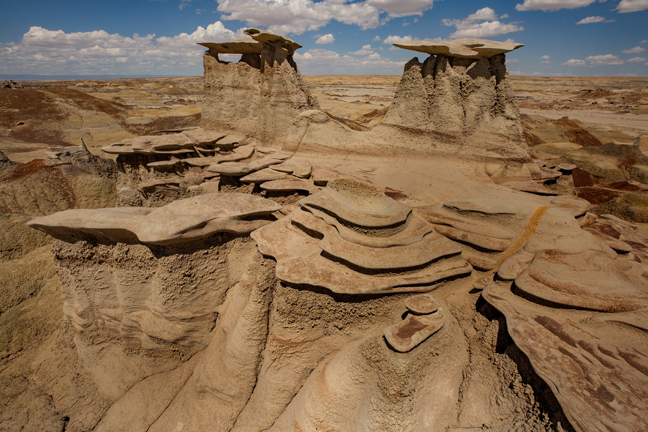 May 2019: Unnamed Formations, Bisti Badlands, San Juan Basin, NM

We arrived in Farmington, NM the day before the official start of the rally for a pre-arranged Friday hike with a small group of friends in the Bisti Badlands, an area of unusually eroded rock formations in the high desert of the San Juan Basin. The clayish hills that comprise most of the wilderness are mixed with more erosion resistant sandstone resulting in landscapes composed of hoodoos, balanced rocks, arches, petrified wood and metamorphosed colored rock layers. (5/6)
©Rich Beckman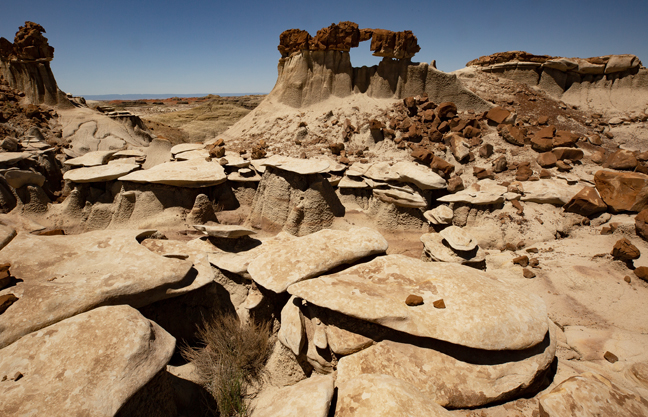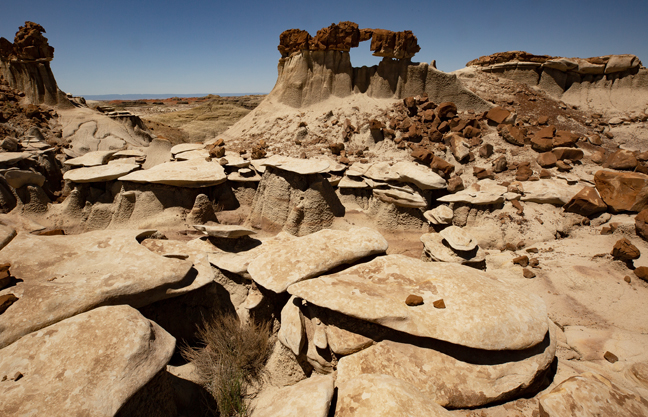 May 2019: Two Windows Arch, Bisti Badlands, San Juan Basin, NM

We arrived in Farmington, NM the day before the official start of the rally for a pre-arranged Friday hike with a small group of friends in the Bisti Badlands, an area of unusually eroded rock formations in the high desert of the San Juan Basin. The clayish hills that comprise most of the wilderness are mixed with more erosion resistant sandstone resulting in landscapes composed of hoodoos, balanced rocks, arches, petrified wood and metamorphosed colored rock layers. (6/6)
©Rich Beckman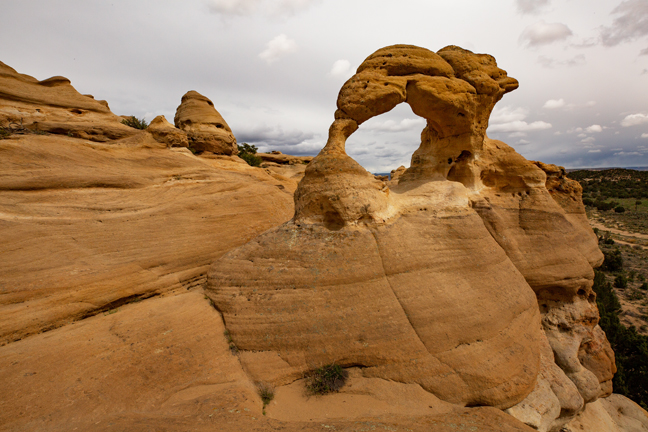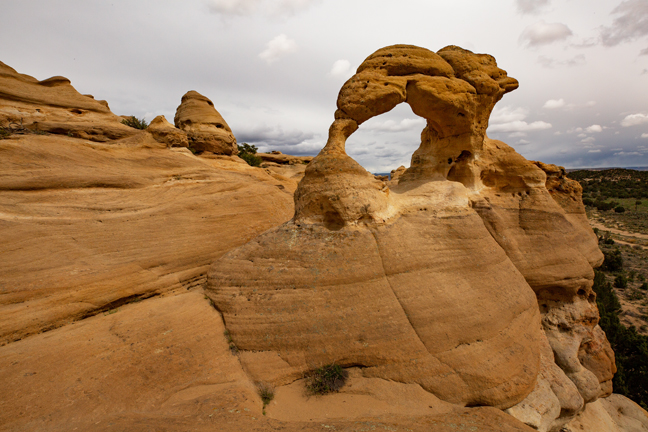 May 2019: Little Delicate Arch, Pilares Canyon, San Juan County, NM

After a day in the Badlands, we joined the start of the official arch rally. More than 400 natural arches have been documented in San Juan County, NM and are divided into three regions: Aztec, Blanco-Largo and Frances-Manzanares. The abundant gas well roads provide easy access to the sandstone canyons throughout the area and thus access to many arches through short hikes, scrambles and climbs. (1/5)
©Rich Beckman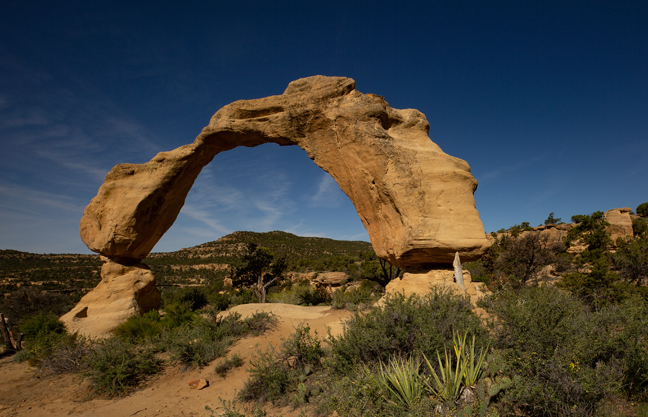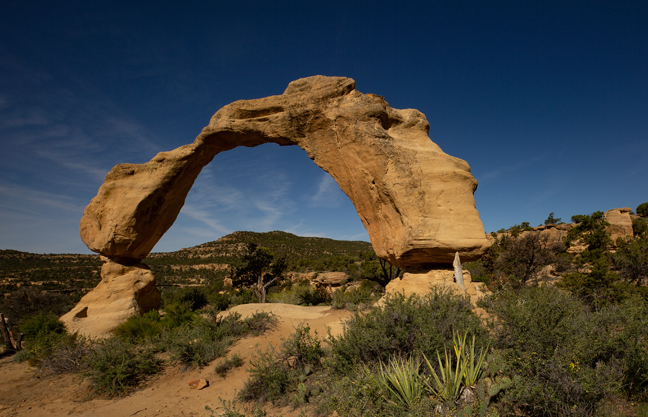 May 2019: NM-693, Cox Canyon Arch, San Juan County, NM

After a day in the Badlands, we joined the start of the official arch rally. More than 400 natural arches have been documented in San Juan County, NM and are divided into three regions: Aztec, Blanco-Largo and Frances-Manzanares. The abundant gas well roads provide easy access to the sandstone canyons throughout the area and thus access to many arches through short hikes, scrambles and climbs. (2/5)
©Rich Beckman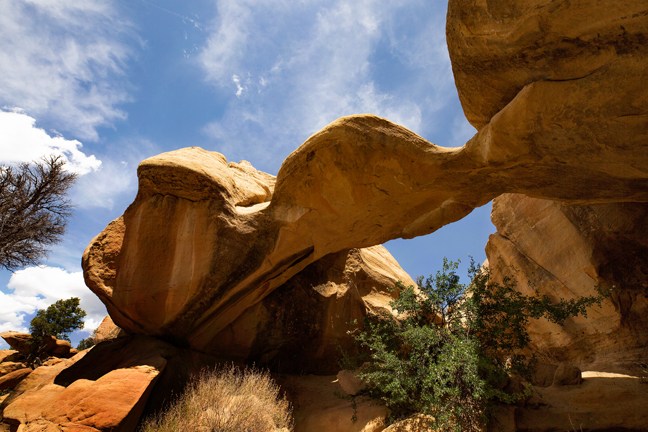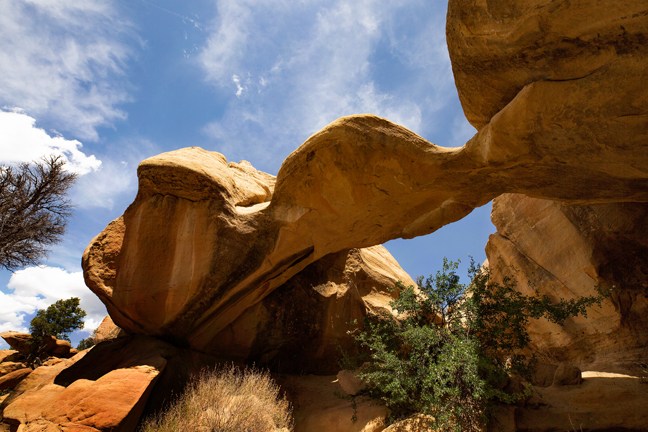 May 2019: Octopus Triple Bridge, Ditch Canyon, San Juan County, NM

After a day in the Badlands, we joined the start of the official arch rally. More than 400 natural arches have been documented in San Juan County, NM and are divided into three regions: Aztec, Blanco-Largo and Frances-Manzanares. The abundant gas well roads provide easy access to the sandstone canyons throughout the area and thus access to many arches through short hikes, scrambles and climbs. (3/5)
©Rich Beckman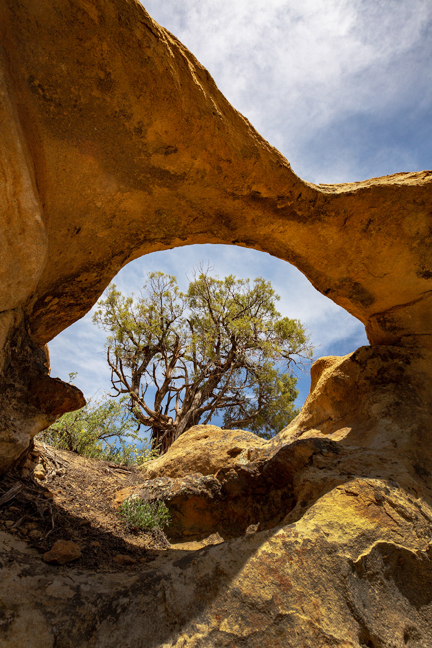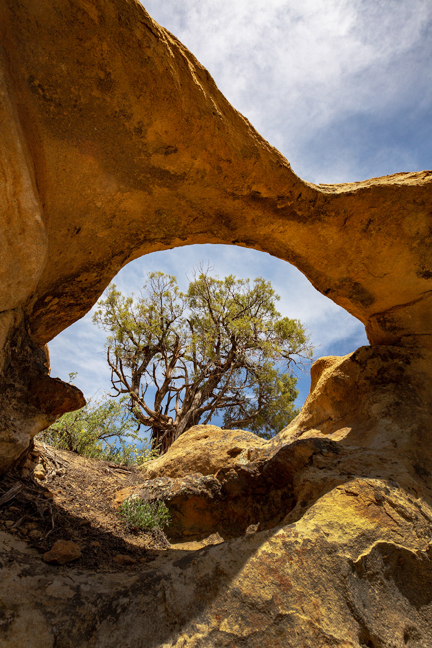 May 2019: NM-693, Cox Canyon, San Juan County, NM

After a day in the Badlands, we joined the start of the official arch rally. More than 400 natural arches have been documented in San Juan County, NM and are divided into three regions: Aztec, Blanco-Largo and Frances-Manzanares. The abundant gas well roads provide easy access to the sandstone canyons throughout the area and thus access to many arches through short hikes, scrambles and climbs. (4/5)
©Rich Beckman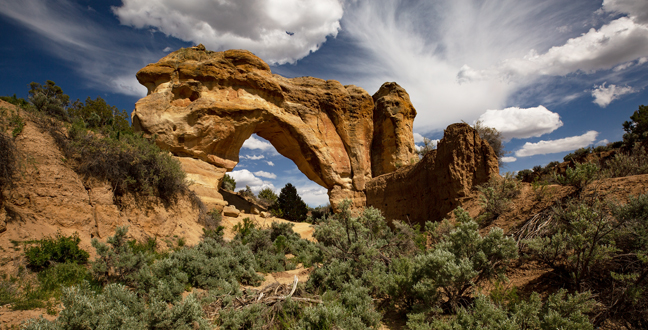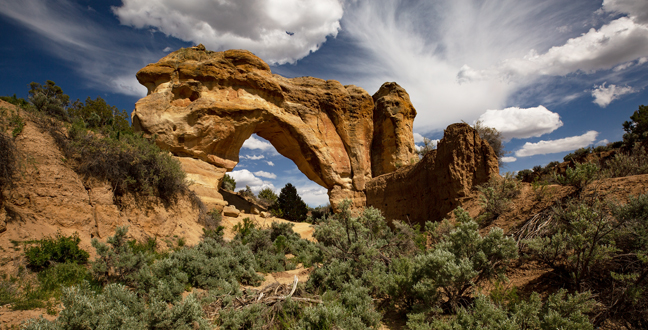 May 2019: NM-693, Arch Rock, San Juan County, NM

After a day in the Badlands, we joined the start of the official arch rally. More than 400 natural arches have been documented in San Juan County, NM and are divided into three regions: Aztec, Blanco-Largo and Frances-Manzanares. The abundant gas well roads provide easy access to the sandstone canyons throughout the area and thus access to many arches through short hikes, scrambles and climbs. (5/5)
©Rich Beckman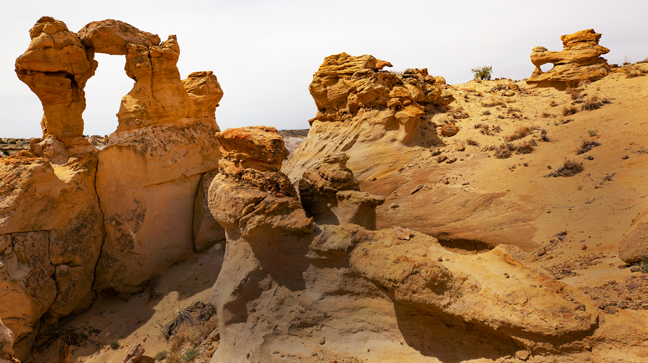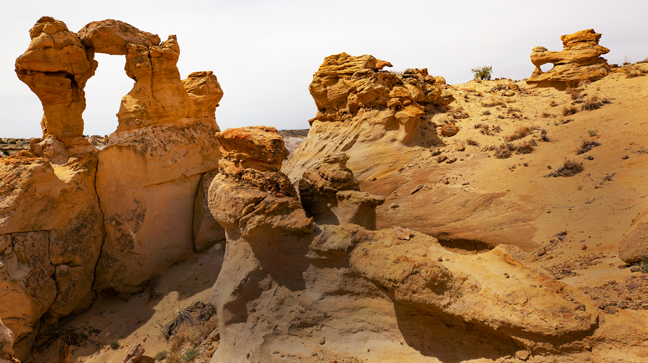 May 2019: Unnamed Formations and Arches, De-Na-Zin Wilderness Area, NM

After two days of hiking to arches, we visited the adjacent De-Na-Zin high desert Wilderness Area, best known for its complete trunks of petrified wood, some up to 100 feet long. The area has more vegetation than the Bisti Wilderness and hoodoos and formations are more widespread, often found in small clusters. (1/4)
©Rich Beckman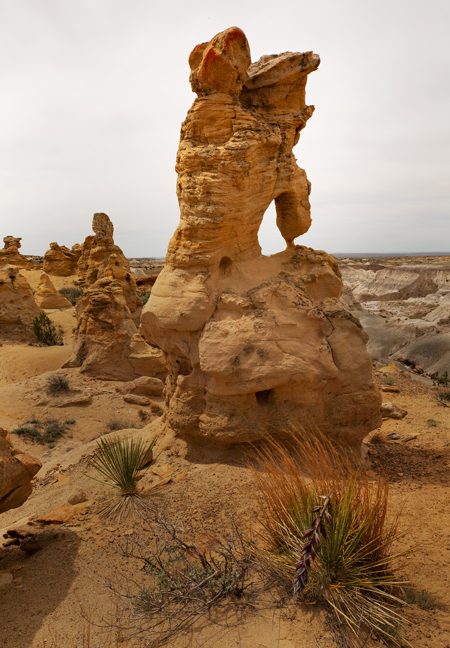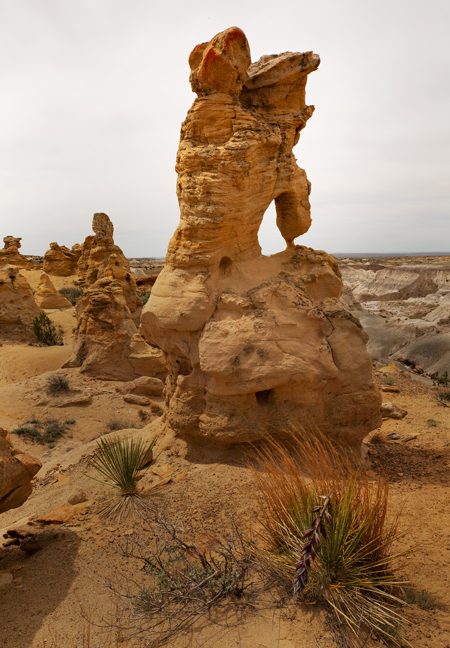 May 2019: Unnamed Arch, De-NaZin Badlands, San Juan Basin, NM

After two days of hiking to arches, we visited the adjacent De-Na-Zin high desert Wilderness Area, best known for its complete trunks of petrified wood, some up to 100 feet long. The area has more vegetation than the Bisti Wilderness and hoodoos and formations are more widespread, often found in small clusters. (2/4)
©Rich Beckman
May 2019: Petrified Log, De-Na-Zin Wilderness Area, NM

After two days of hiking to arches, we visited the adjacent De-Na-Zin high desert Wilderness Area, best known for its complete trunks of petrified wood, some up to 100 feet long. The area has more vegetation than the Bisti Wilderness and hoodoos and formations are more widespread, often found in small clusters. (3/4)
©Rich Beckman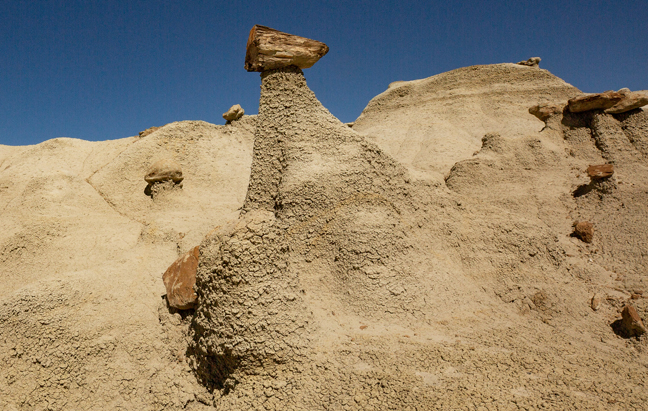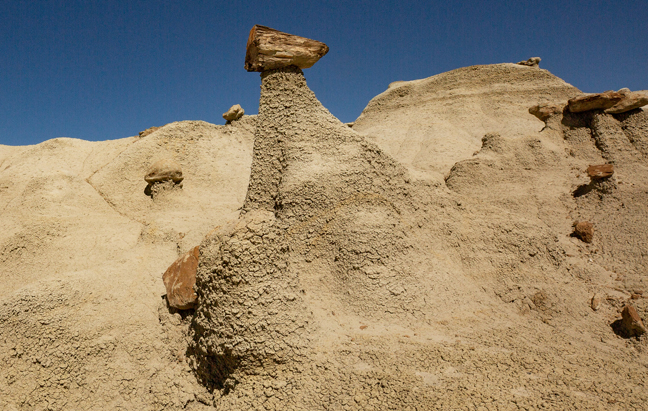 May 2019: Petrified Hoodoo, De-Na-Zin Wilderness Area, NM

After two days of hiking to arches, we visited the adjacent De-Na-Zin high desert Wilderness Area, best known for its complete trunks of petrified wood, some up to 100 feet long. The area has more vegetation than the Bisti Wilderness and hoodoos and formations are more widespread, often found in small clusters. (4/4)
©Rich Beckman
May 2019: Klingon Bird of Prey Arch, Bisti Wilderness, NM

The weather forecast for the end of the week called for rain, which would wash out the clay access roads to the Bisti Wilderness, so we took advantage of our last sunny day to further explore the Bisti Badlands. (1/4)
©Rich Beckman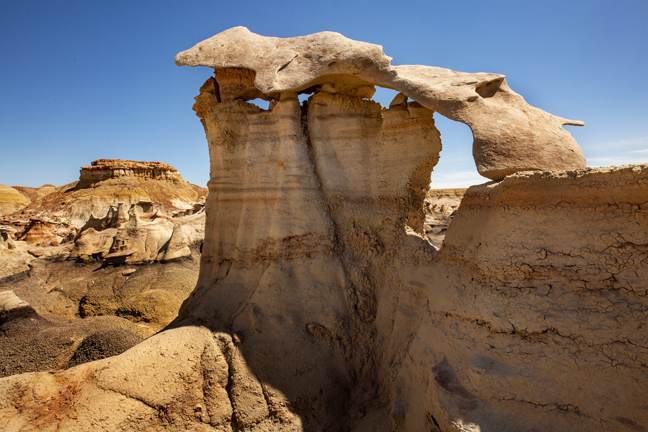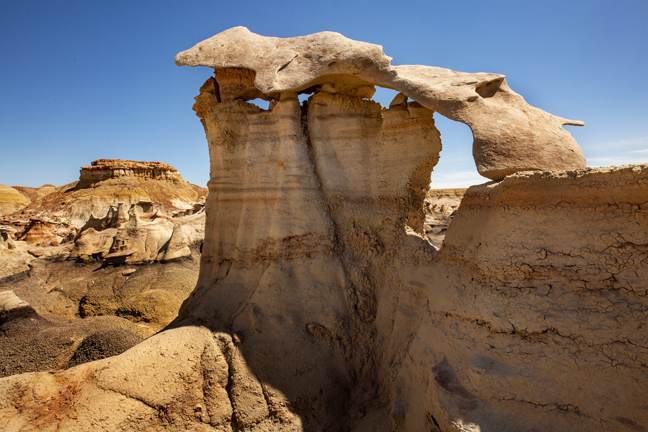 May 2019: Unnamed Formations and Arches, Bisti Wilderness, NM

The weather forecast for the end of the week called for rain, which would wash out the clay access roads to the Bisti Wilderness, so we took advantage of our last sunny day to further explore the Bisti Badlands. (2/4)
©Rich Beckman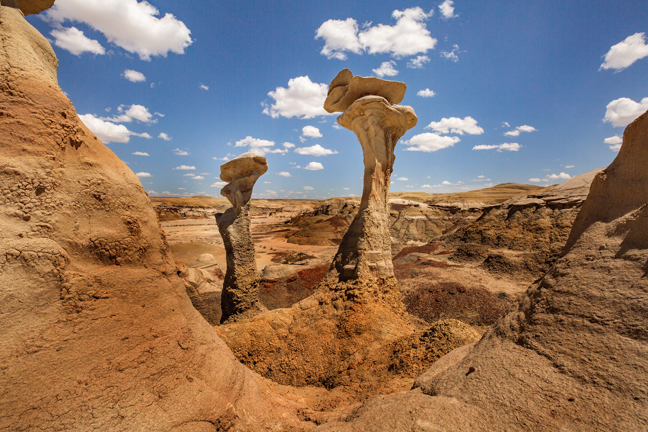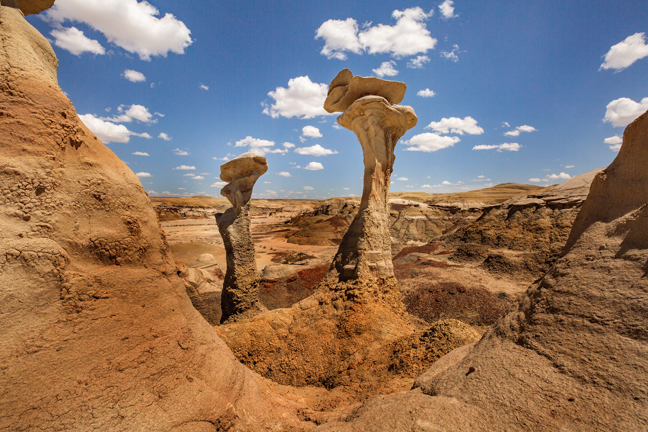 May 2019: Conversing Hoodoos, Bisti Wilderness, NM

The weather forecast for the end of the week called for rain, which would wash out the clay access roads to the Bisti Wilderness, so we took advantage of our last sunny day to further explore the Bisti Badlands. (3/4)
©Rich Beckman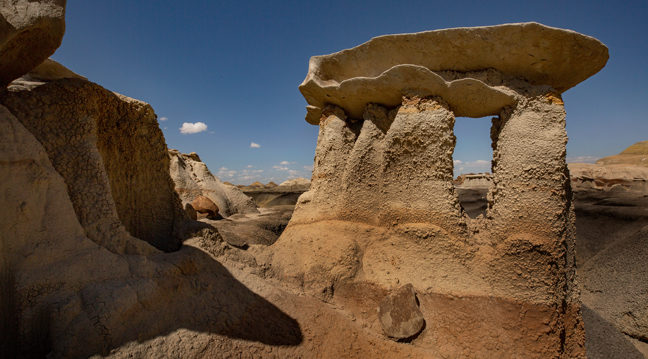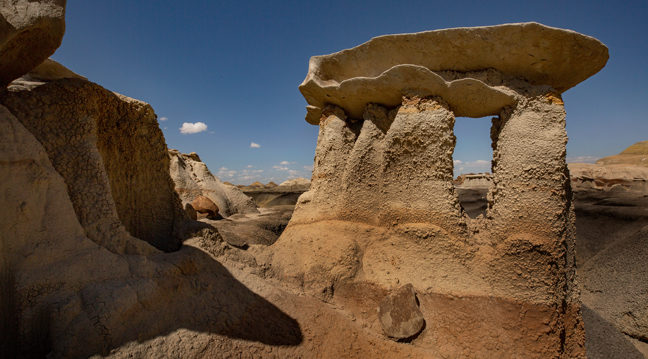 May 2019: Clam Hoodoo, Bisti Wilderness, NM

The weather forecast for the end of the week called for rain, which would wash out the clay access roads to the Bisti Wilderness, so we took advantage of our last sunny day to further explore the Bisti Badlands. (4/4)
©Rich Beckman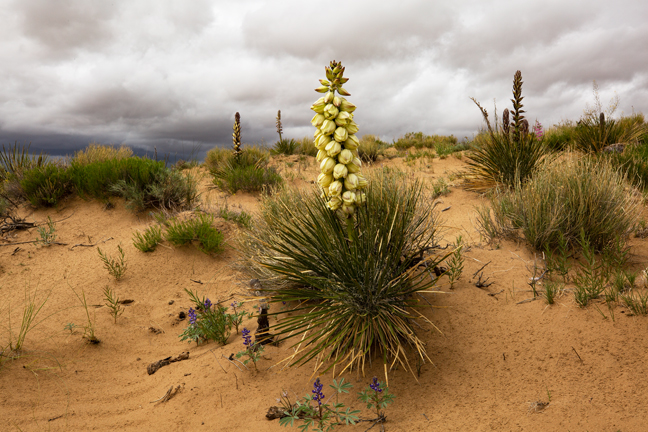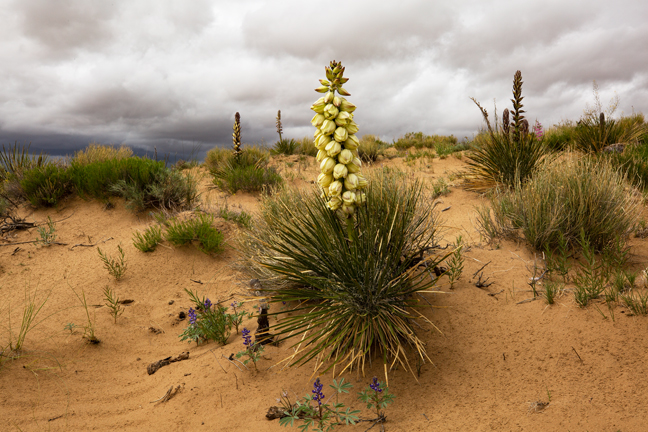 May 2019: High Desert Landscape, Ah-Shi-Se-Pah Badlands, NM

Heavy clouds and light rain moved into the area on Wednesday morning, but we were determined to end our Badlands exploration at the formation known as the King of Wings. (1/2)
©Rich Beckman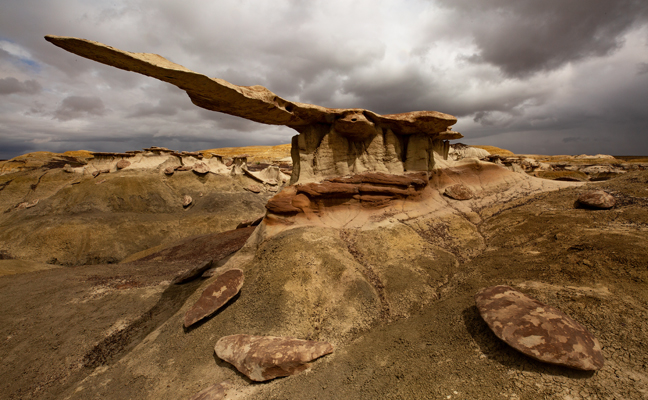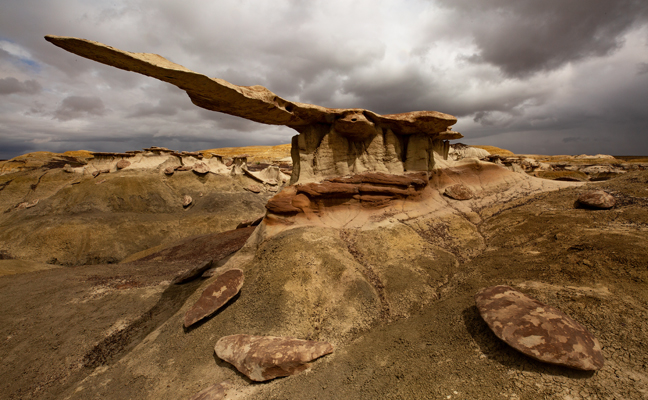 May 2019: King of Wings, Ah-Shi-Se-Pah Badlands, NM

Heavy clouds and light rain moved into the area on Wednesday morning, but we were determined to end our Badlands exploration at the formation known as the King of Wings. (2/2)
©Rich Beckman