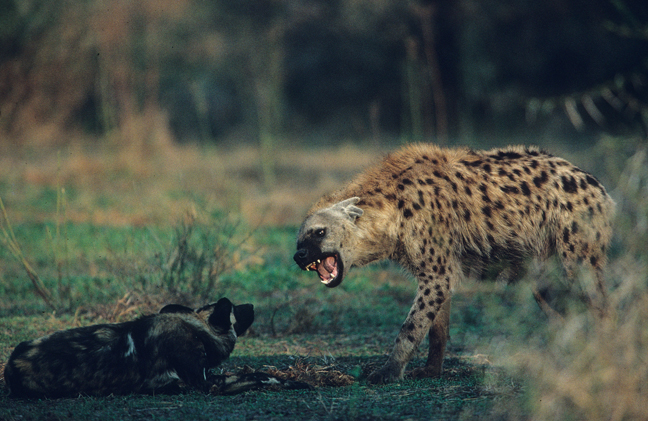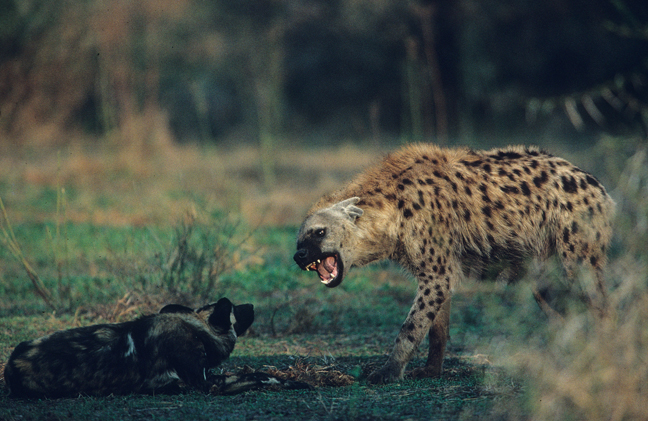 A Spotted Hyena threatens to steal scraps from an African Wild Dog in the Linyanti concession between the Okavango Delta and the Caprivi wetlands. Hyenas are opportunistic feeders and will often follow other predators and try to steal their kills. A solitary hyena usually won't fare well against a pack of wild dogs.
©Rich Beckman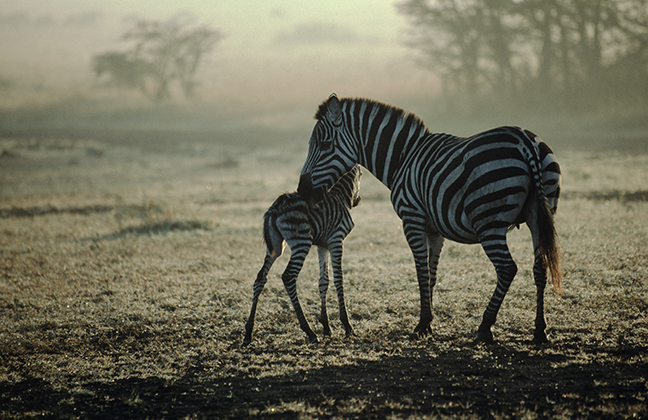 A mother cleans her foal shortly after his birth in the Masai Mara. Foals are able to stand within 15 minutes of birth and able to walk within an hour.
©Rich Beckman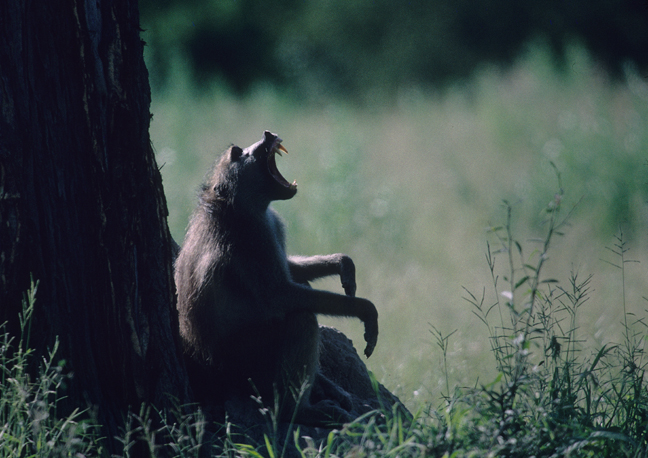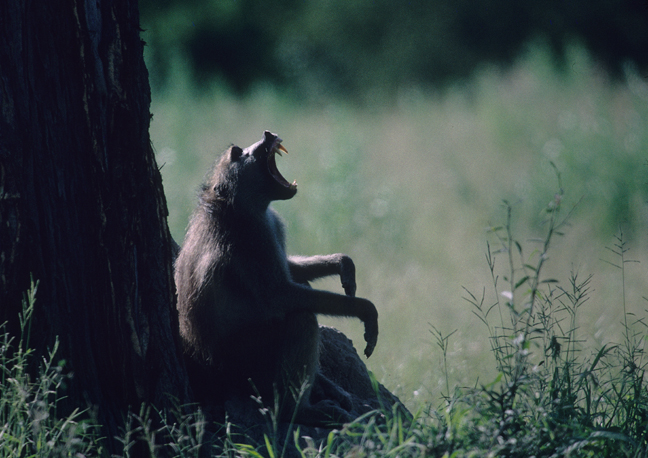 A Chacma Baboon emits a loud screeching call while baring her canine teeth in the Okavango Delta region of Botswana. Baboons spend most of their time walking on all fours and usually only retreat to trees to sleep. They are excellent climbers, but their tails are not prehensile, so are used only to assist with balance during climbing.
©Rich Beckman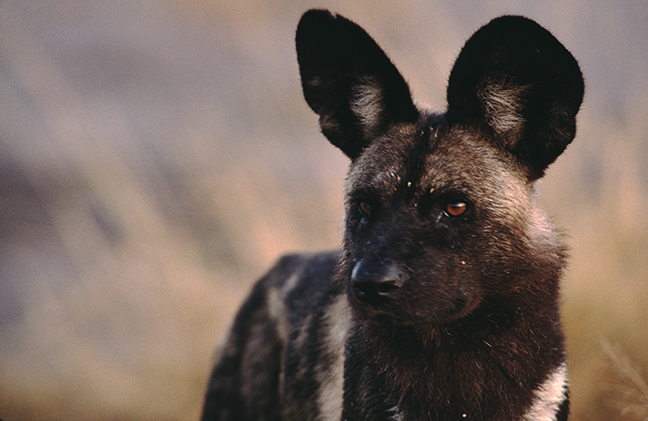 An African Wild Dog observes a gazelle in the distance. Wild Dogs live in small packs and hunt communally. All males in a pack are related to each other, and all of the females to each other, but not to the males.
©Rich Beckman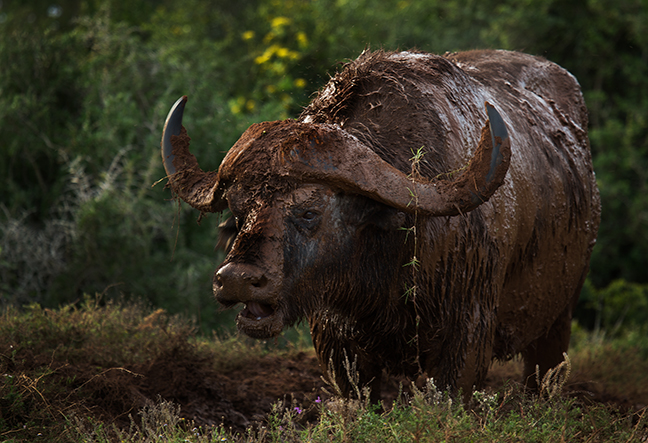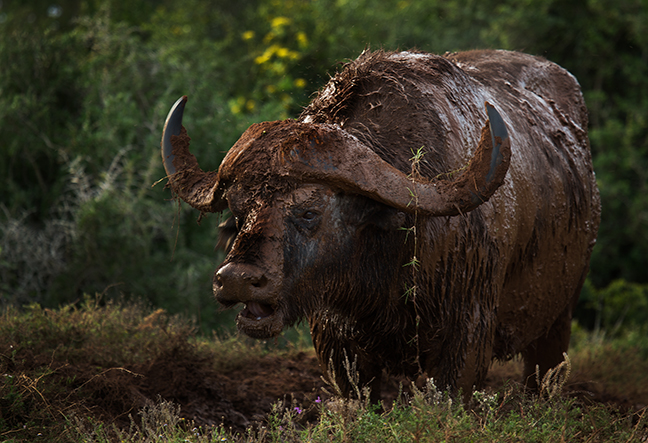 A Cape Buffalo emerges from a muddy water hole in Addo Elephant National Park. Buffalo cover themselves with mud to regulate their body temperature and to eliminate parasites and ticks. When the mud dries and peels away, the embedded irritants are removed with it.
©Rich Beckman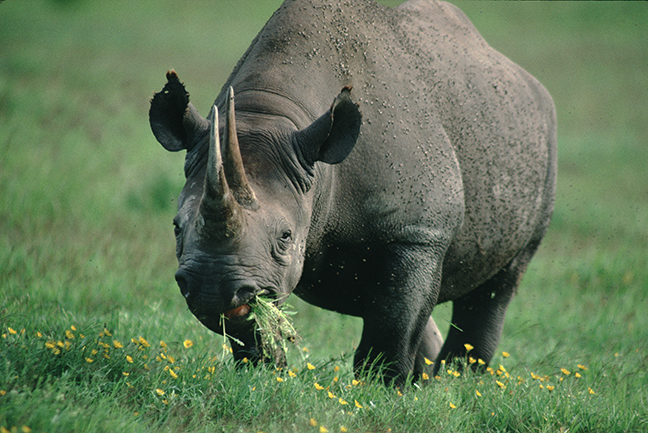 A Black Rhino grazes in the Okavango Delta. The Botswana Rhino Reintroduction Project reintroduced Black Rhinos into the Delta in 2003. In 1992, the Black Rhino was considered extinct in Botswana due to poaching and hunting.
©Rich Beckman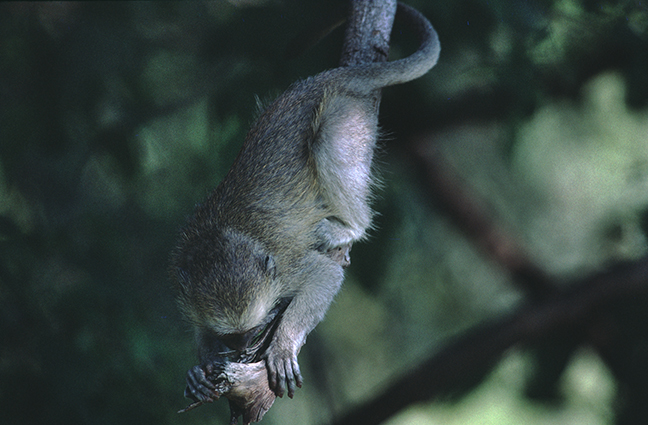 A Black Vervet Monkey chews on leaves and bark in a tree in the Selinda Private Reserve in northern Botswana. Vervets are mainly vegetarian and rarely venture more than 500 yards from trees as they are potential prey to a variety of predators.
©Rich Beckman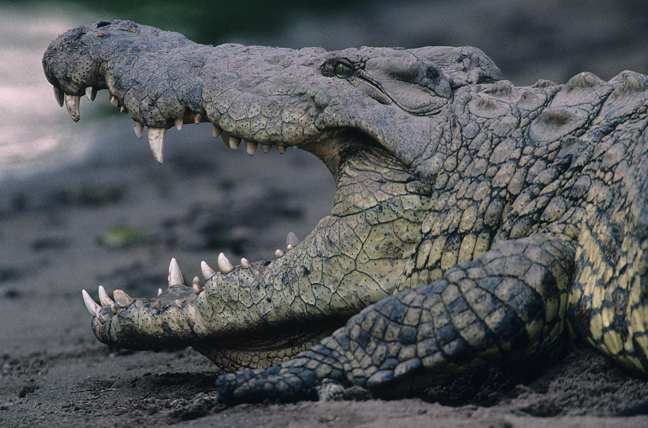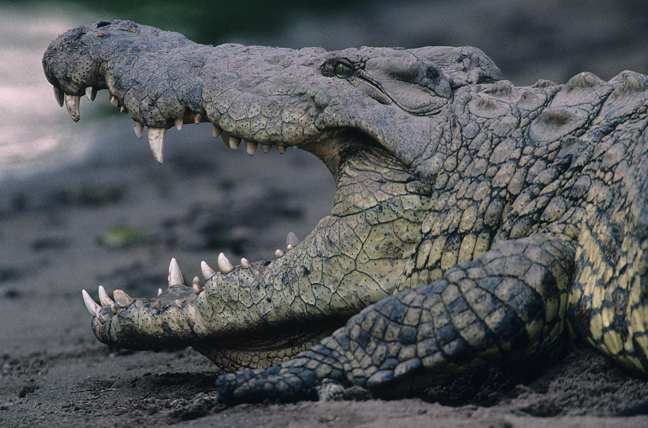 A Nile Crocodile basks along the banks of the Mara River. They are very aggressive and capable of killing almost any animal within their habitat. They are most often ambush attackers, waiting beneath the water to pounce on unsuspecting prey crossing rivers and streams.
©Rich Beckman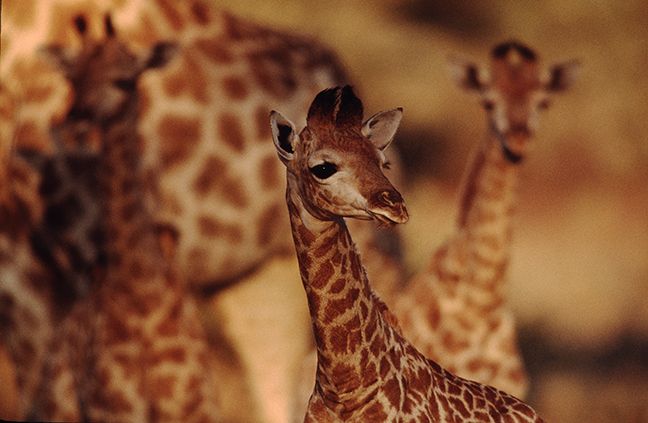 A nursery group of giraffes consists of a number of adult females and their young. The adults take turns feeding while one watches the young. Giraffes prefer to feed on the new growth on the crown of acacia trees.
©Rich Beckman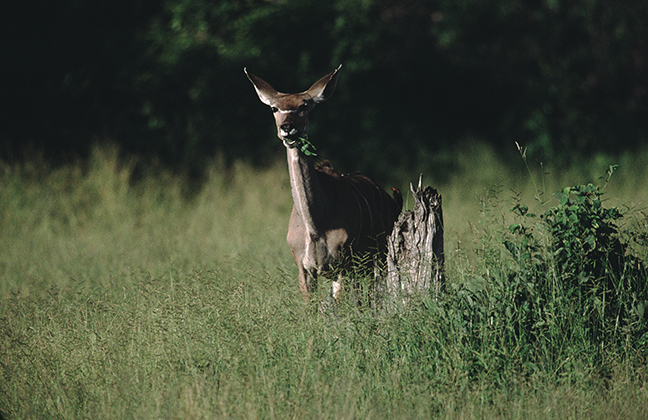 A female Greater Kudu grazes along the Gomoti Channel adjacent to the Moremi Game Reserve. Females often form small groups with their offspring and prefer scrub woodlands that provide a degree of protection from predators.
©Rich Beckman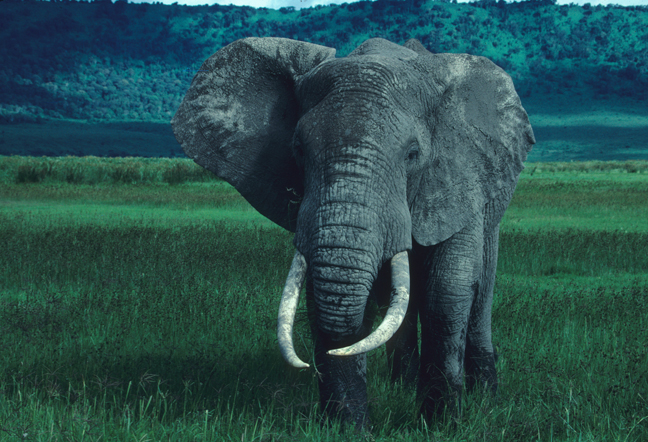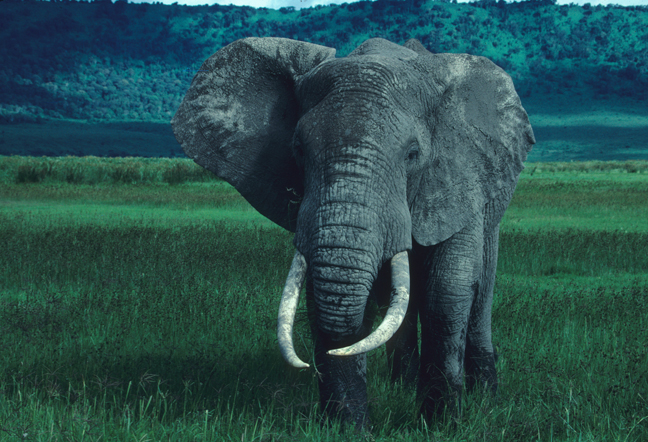 A bull elephant grazes in the Ngorongoro Crater in Tanzania. The 10-mile wide crater is a world heritage site and is the world's largest intact volcanic caldera. The Crater is home to almost 25,000 large mammals and is the most visited tourist destination in the country.
©Rich Beckman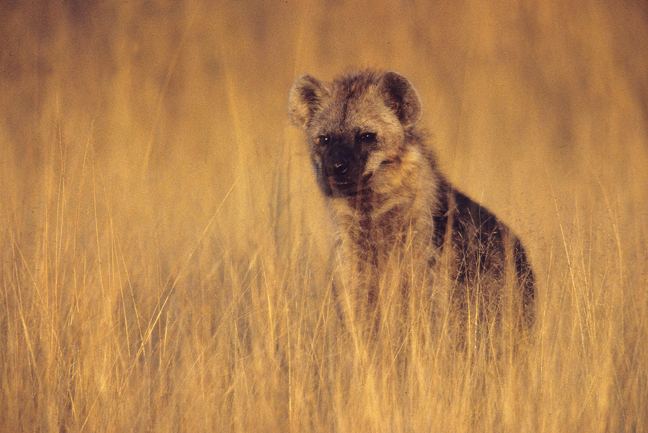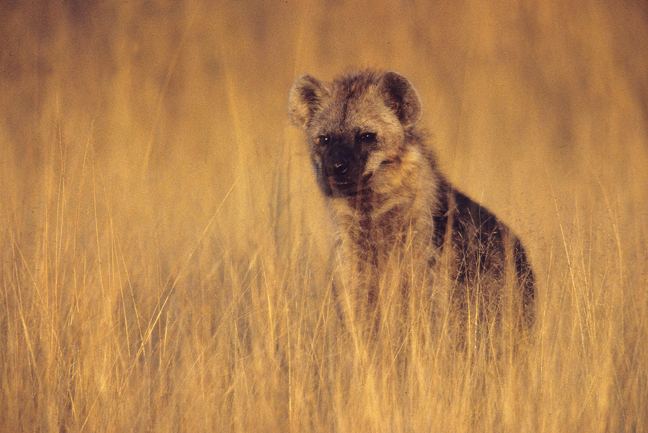 A Spotted Hyena cub hides in the grass on Pom Pom Island. Although the average litter has only two cubs, they are highly competitive with the dominant cub sometimes even killing its weaker sibling. Females stay with their birth clan, but the males leave upon maturity at around age three.
©Rich Beckman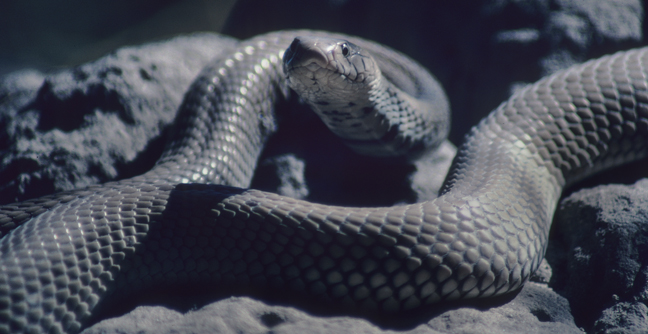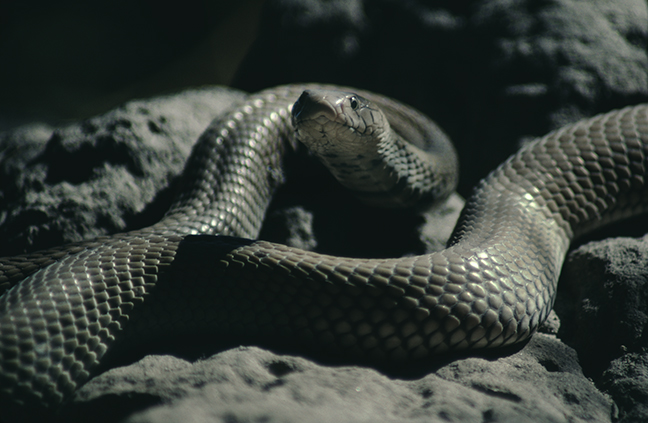 A Black Mamba rests on a termite mound in the Savuti area of Chobe National Park. Black Mamba are the longest and one of the deadliest venomous snakes in Africa. They tend to bite several times consecutively and release large amounts of venom. Anti venom needs to be administered within 20 minutes for a human bite victim to survive.
©Rich Beckman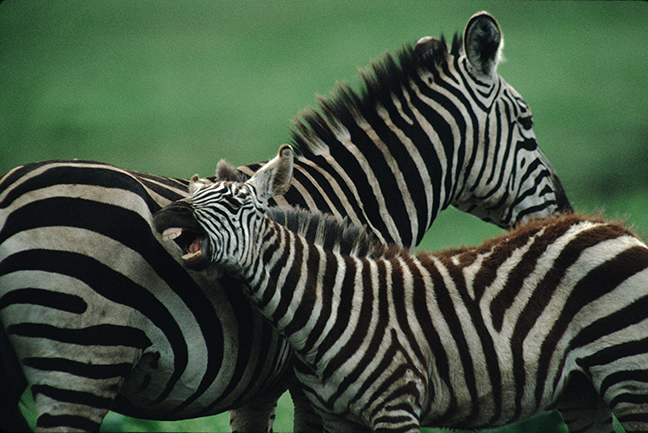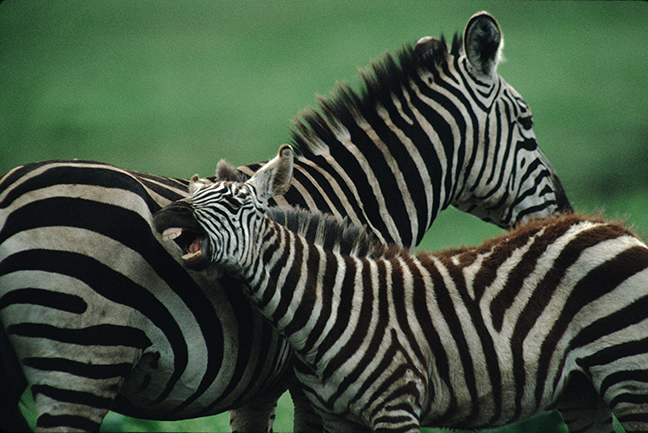 A Common Zebra foal in the Serengeti brays as his mother pushes him away when he tries to suckle. Most zebras are fully weaned between seven and 11 months of age.
©Rich Beckman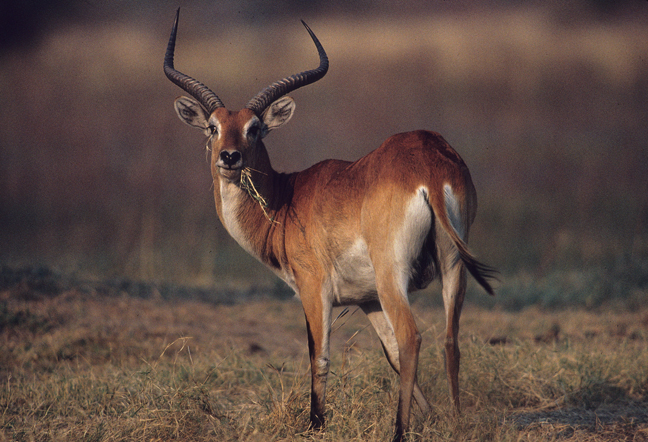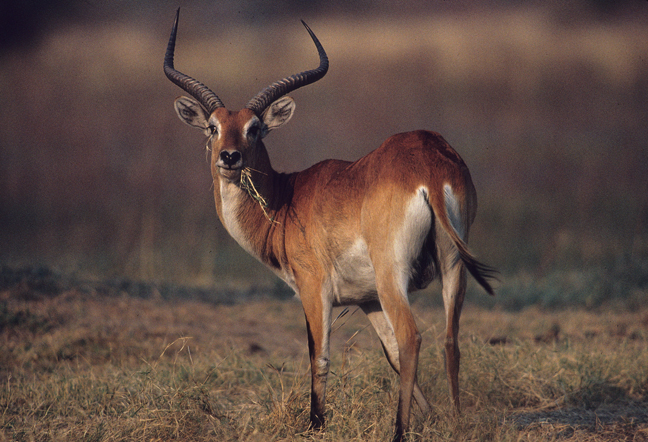 A Red Lechwe buck grazes on semi-aquatic grasses on Chief's Island in the Moremi Game Reserve on the eastern edge of the Okavango Delta in northern Botswana.
©Rich Beckman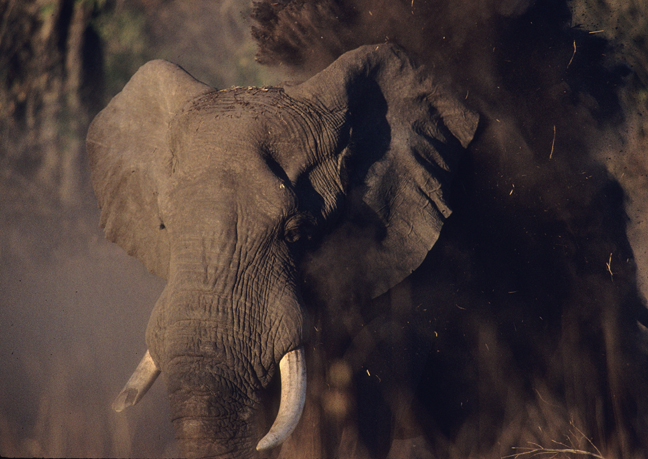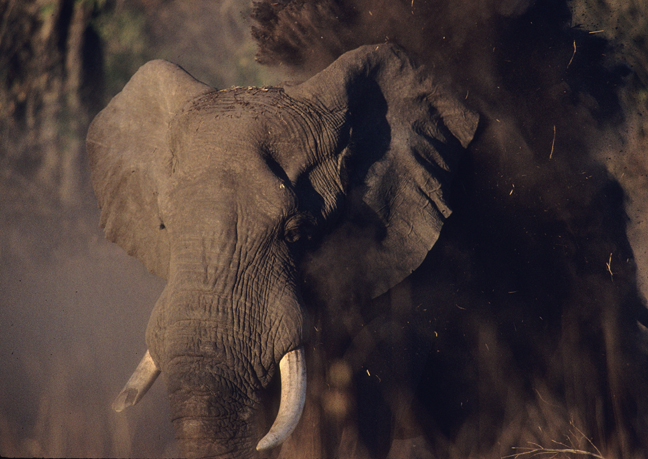 A young bull elephant in musth in Addo Elephant National Park displays highly aggressive behavior. Musth is a periodic condition accompanied by a large rise in reproductive hormones. Introducing older males into elephant populations has been shown to prevent younger males from entering musth.
©Rich Beckman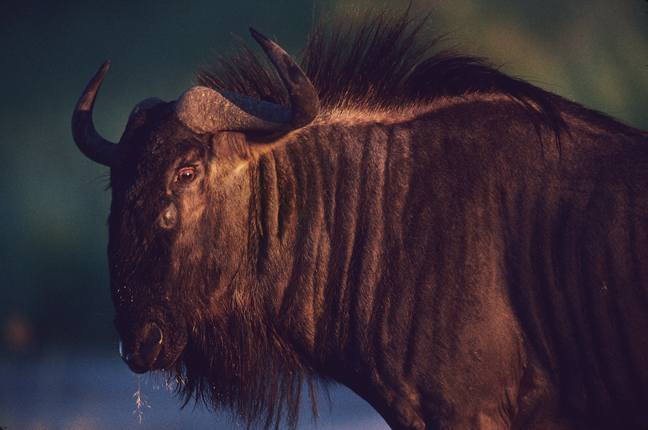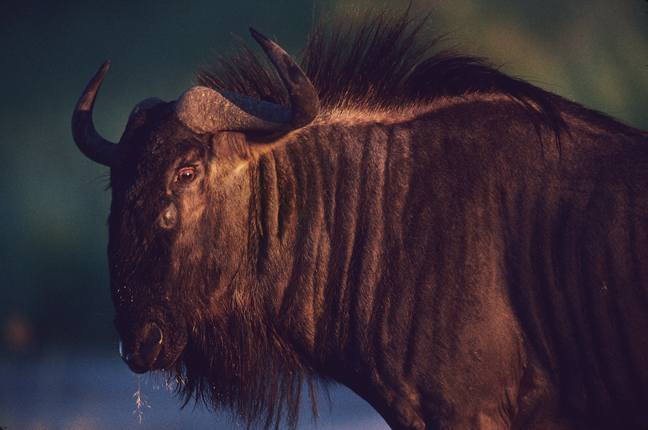 A Bridled Gnu (Blue Wildebeest) grazes in the Serengeti. Wildebeest migrate throughout the year, following the rains in search of fresh grazing grounds and water.
©Rich Beckman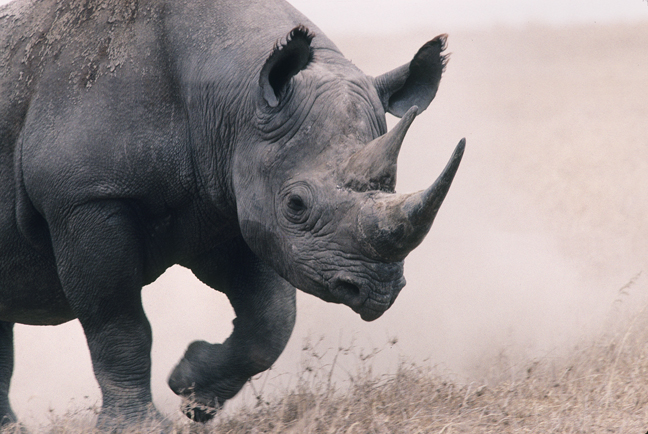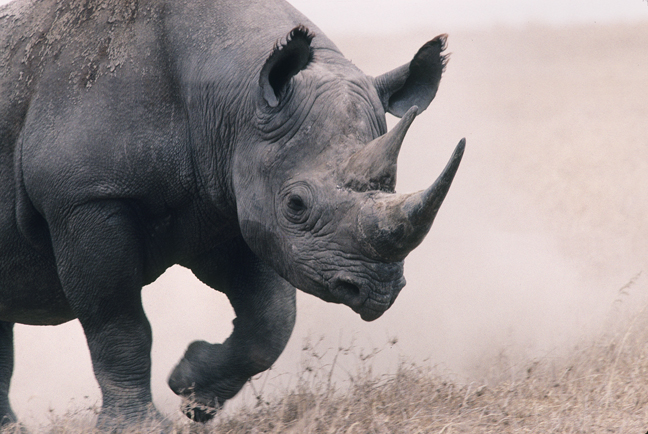 A Black Rhino mock charges on Chief's Island. The 1999 management plan submitted by Wilderness Safaris in the tender process for the Mombo concession included a proposal to reintroduce rhinos into the area. Between 2001 and 2005 a total of 28 white rhinos and four black rhinos were released in the vicinity of the Camp.
©Rich Beckman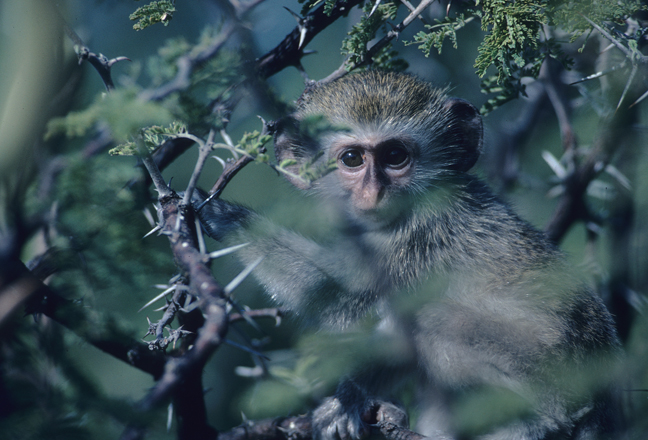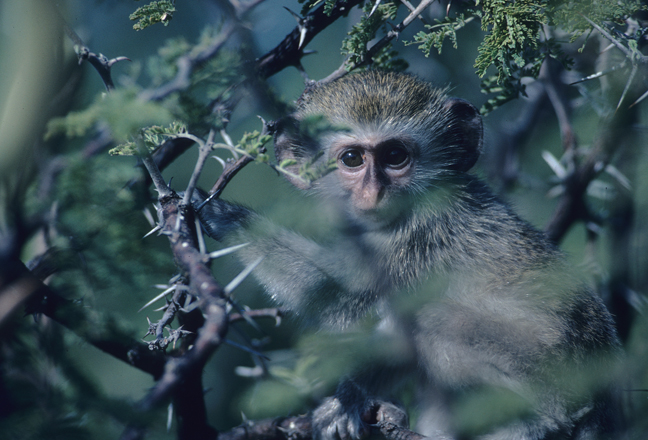 A young Black Vervet Monkey hides in a Thorny Acacia Tree while his mother collects food. Vervets are primarily herbivorous, preferring fruits, leaves and seeds. Leopards, eagles, pythons and baboons will all hunt young vervets.
©Rich Beckman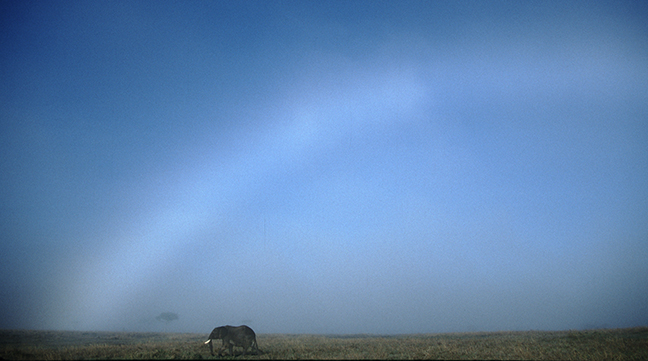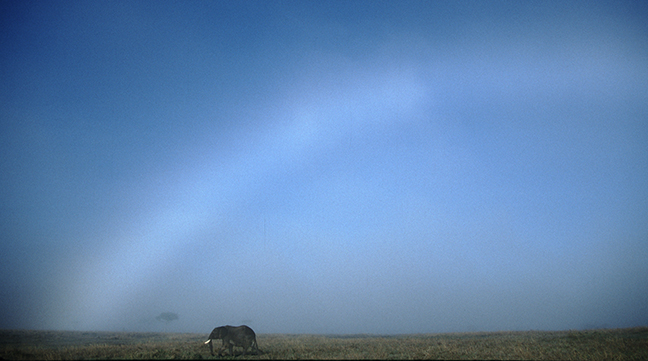 An elephant walks through the Masai Mara under a fogbow, also known as a white rainbow. Fogbows form when there are small water droplets inside a fog or cloud and the sun is low in the sky. Because the droplets are small, fogbows have little or no color.
©Rich Beckman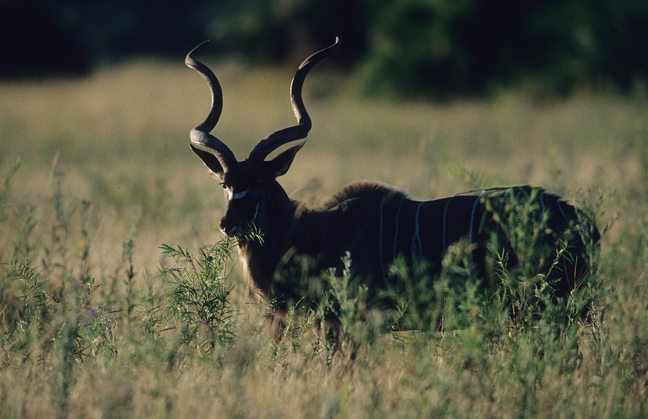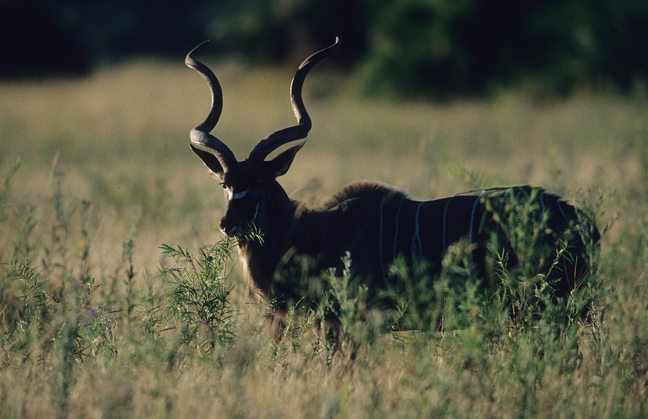 A male Greater Kudu grazes in Limpopo Province, South Africa. Kudu are highly sought after by trophy hunters and there are no seasonal restrictions on hunting Kudu bulls in South Africa. Bulls are solitary and will only join groups of females during the fall mating season.
©Rich Beckman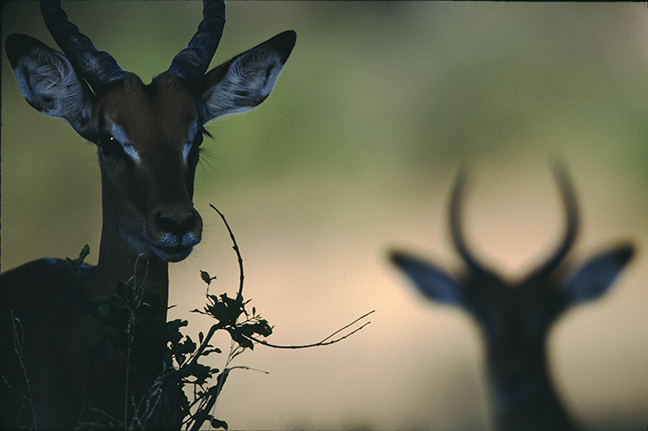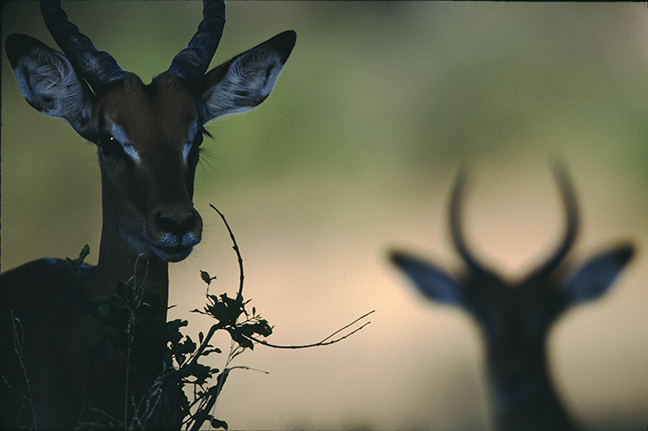 A male Impala browses at dusk in the Masai Mara. Impalas are known for their unique and impressive leaping ability. They can jump to heights of ten feet covering distances slightly over 30 feet. Impala are an important food supply for lions, leopards, cheetahs, wild dogs and hyenas.
©Rich Beckman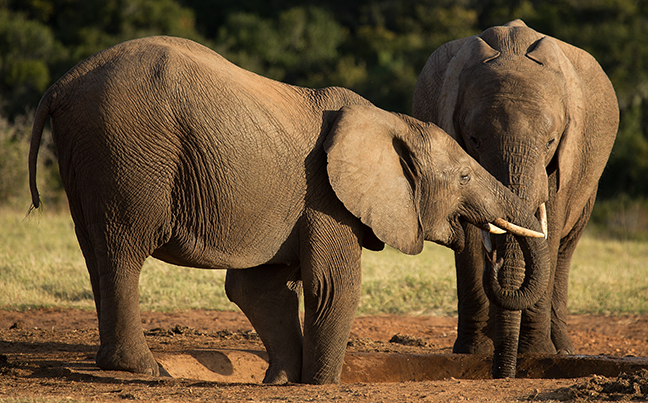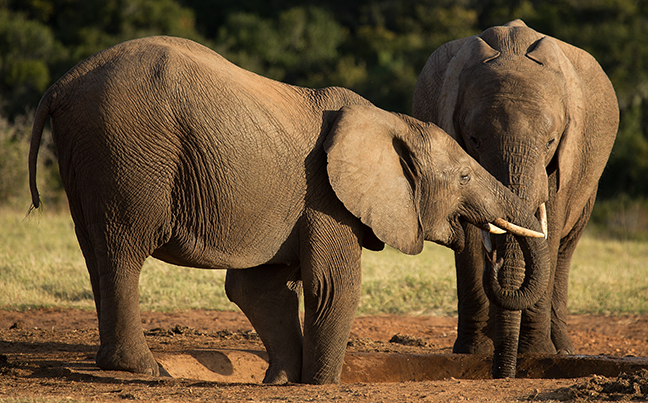 An elephant squirts water into his mouth at a watering hole in Addo Elephant National Park. Elephants don't drink through their trunks, but use their trunks to suck up to three and a half gallons of water at a time and then squirt it into their mouths. An elephant can smell water up to three miles away.
©Rich Beckman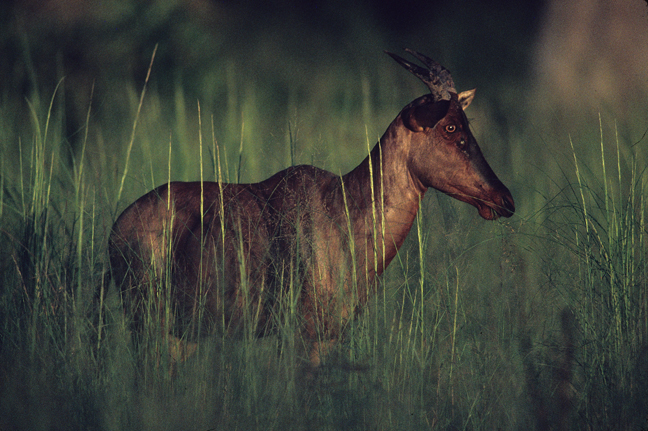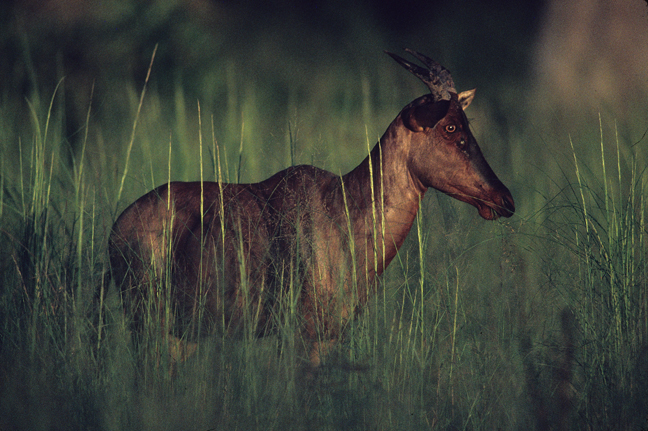 A topi grazes in the Serengeti National Park in Tanzania. Topi are one of the fastest African antelopes, able to reach speeds in excess of 50 mph when avoiding predators.
©Rich Beckman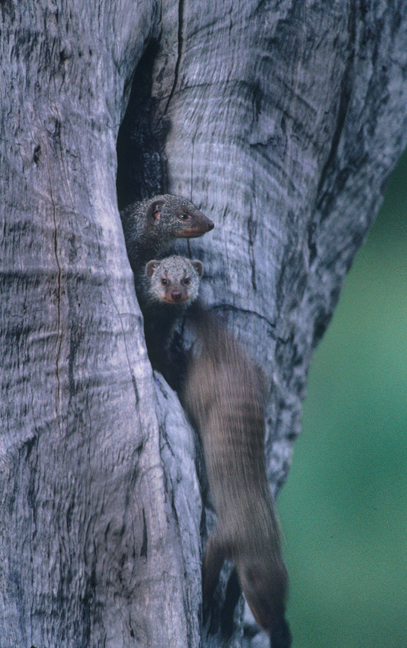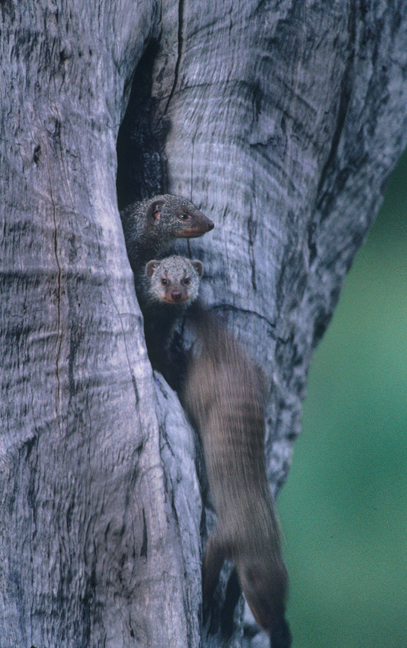 Cape Grey Mongooses rest in a tree hollow in Addo Elephant National Park. The young remain together until they are fully weaned. When not breeding or raising young, mongooses are solitary.
©Rich Beckman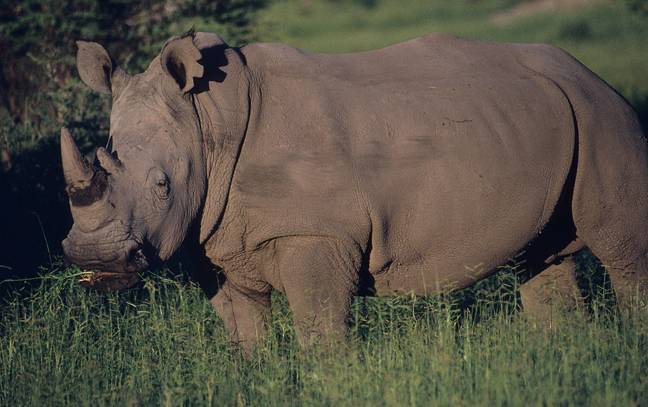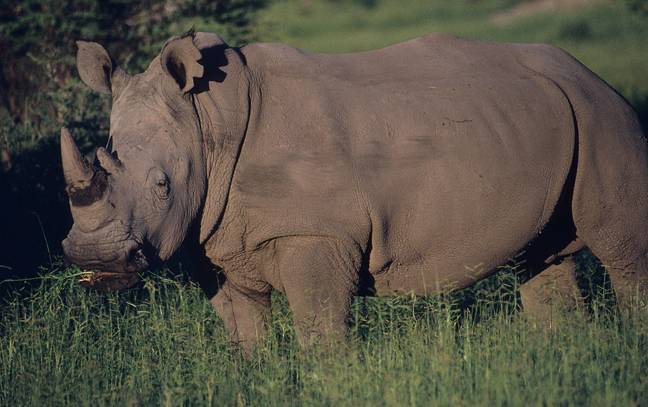 A reintroduced White Rhino grazes in the Moremi Game Reserve in Botswana. By 1996, only six White Rhinos remained in the Reserve, due mostly to poaching in support of the illegal trafficking of ivory.
©Rich Beckman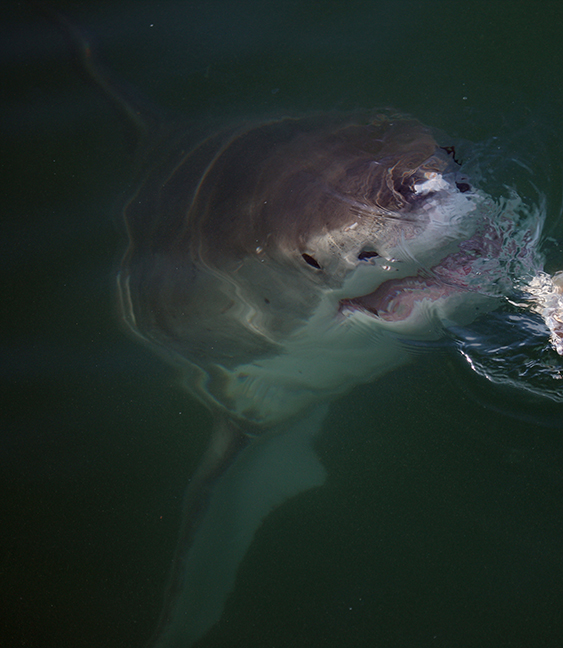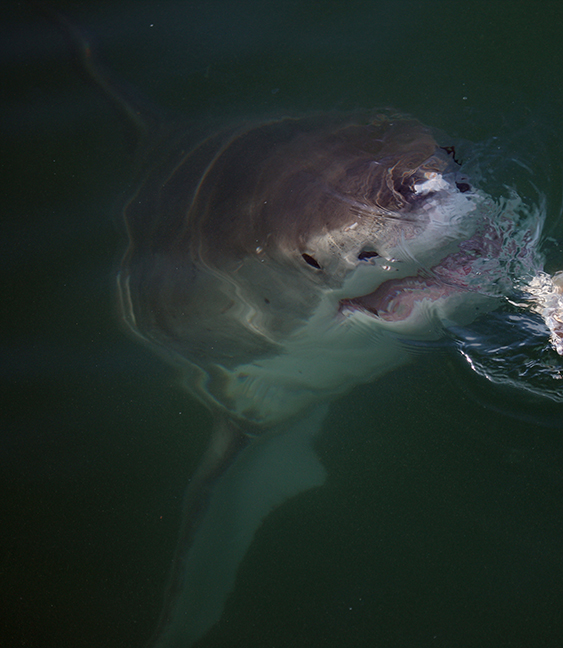 A Great White Shark off the coast of Gansbaai, Western Cape, South Africa is attracted to a tourism boat by a chum slick. Cage diving is controversial as it involves the baiting of an apex predator and has been shown to alter their behavior.
©Rich Beckman