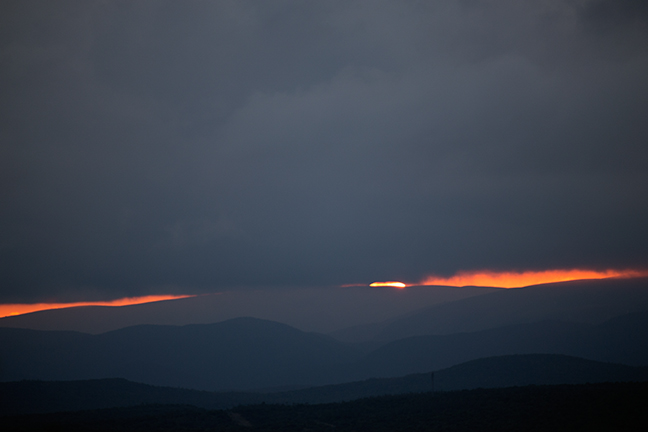 With the dark clouds touching the foothills of the Zuurberg Mountains, the sun sets over Addo Elephant National Park in Eastern Cape, South Africa.
©Rich Beckman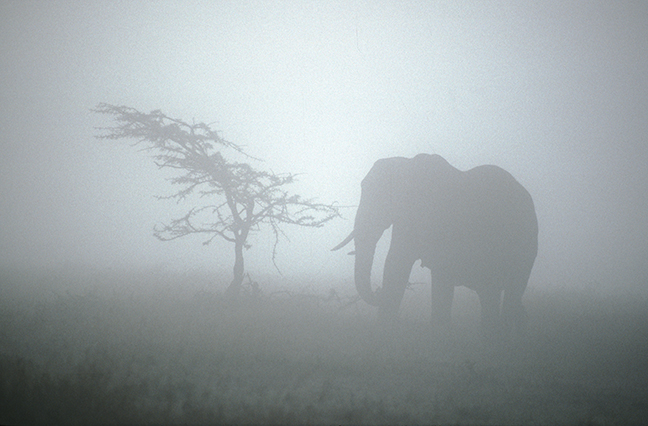 An elephant browses in the Masai Mara on a foggy morning. Depending on their size, elephants can eat from 200-500 pounds of food a day and drink up to 30–55 gallons of water. They are the largest land animals on Earth.
©Rich Beckman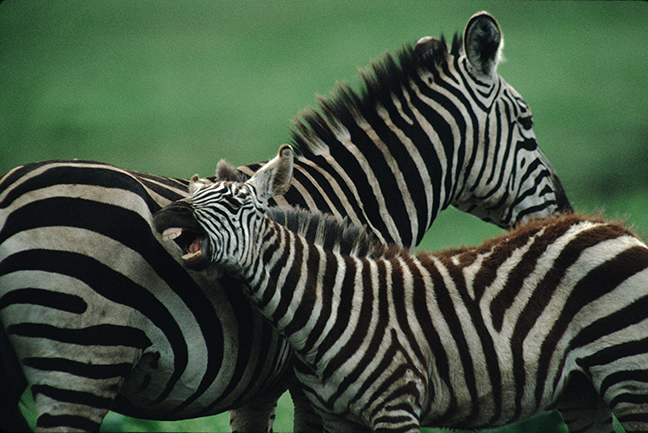 A Common Zebra foal in the Serengeti brays as his mother pushes him away when he tries to suckle. Most zebras are fully weaned between seven and 11 months of age.
©Rich Beckman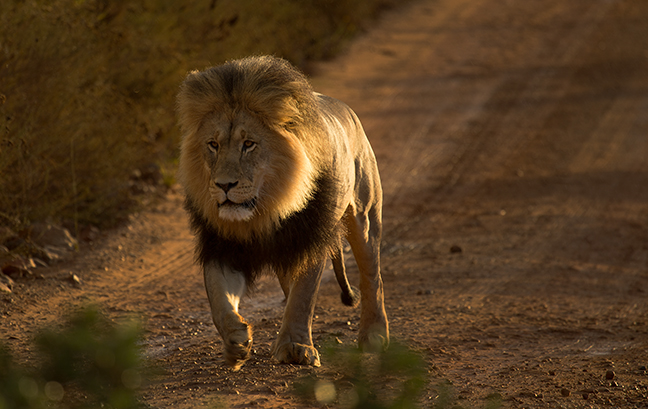 A male lion walks down the road in the Gondwana Private Game Reserve in South Africa. When hungry, a lion may travel up to 15 miles in one day looking for food. They need to hunt and eat every three to four days and can eat 75 pounds of meat per meal.
©Rich Beckman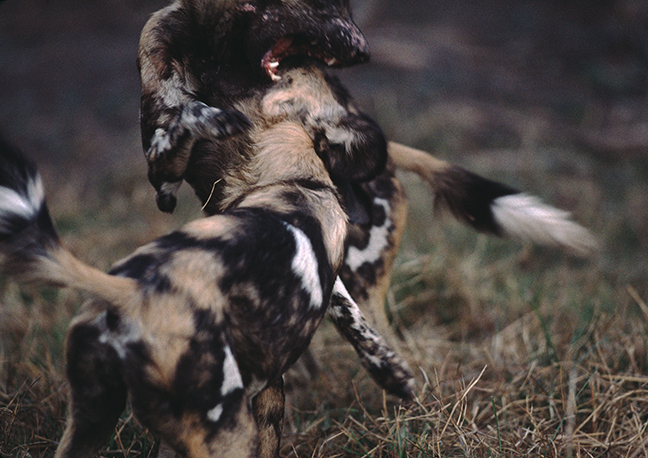 Two African Wild Dogs play fight at a den site on Pom Pom Island. Wild dogs are unlike other large carnivores in that they very rarely fight among themselves, either for dominance or food.
©Rich Beckman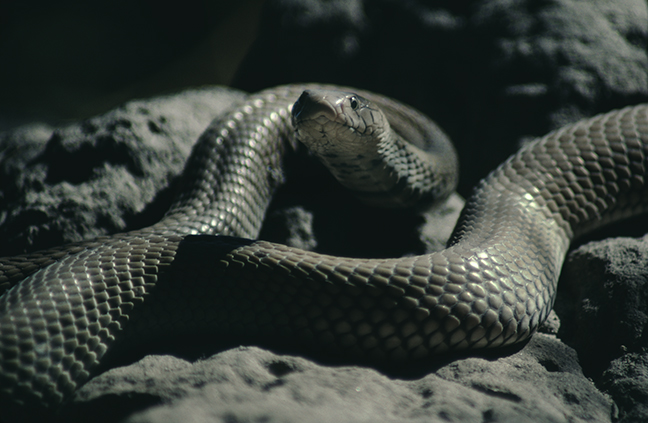 A Black Mamba rests on a termite mound in the Savuti area of Chobe National Park. Black Mamba are the longest and one of the deadliest venomous snakes in Africa. They tend to bite several times consecutively and release large amounts of venom. Anti venom needs to be administered within 20 minutes for a human bite victim to survive.
©Rich Beckman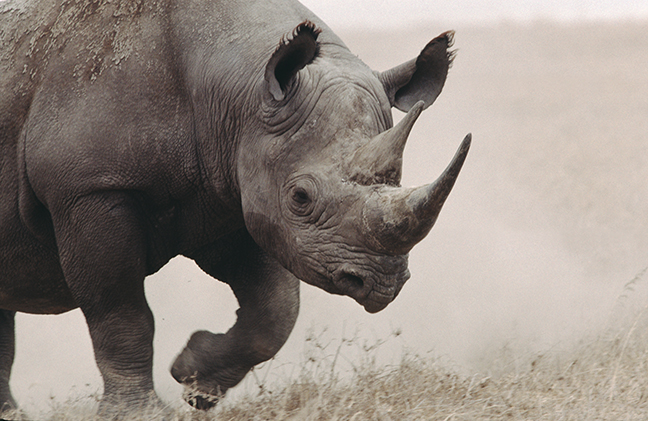 A Black Rhino mock charges on Chief's Island. The 1999 management plan submitted by Wilderness Safaris in the tender process for the Mombo concession included a proposal to reintroduce rhinos into the area. Between 2001 and 2005 a total of 28 white rhinos and four black rhinos were released in the vicinity of the Camp.
©Rich Beckman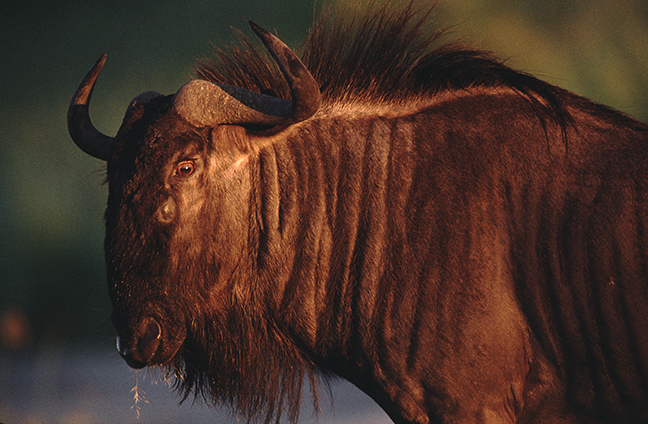 A Bridled Gnu (Blue Wildebeest) grazes in the Serengeti. Wildebeest migrate throughout the year, following the rains in search of fresh grazing grounds and water.
©Rich Beckman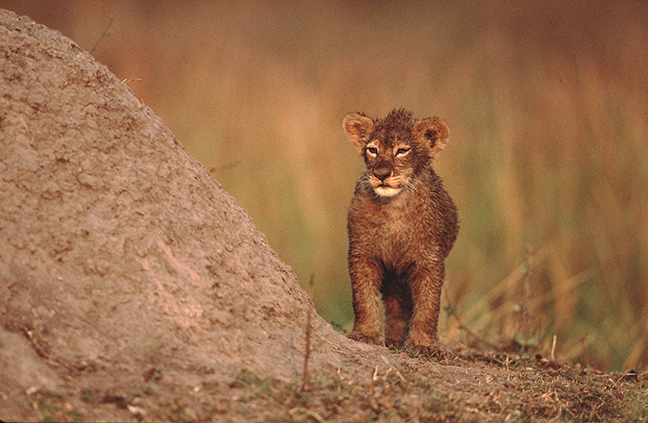 A muddy lion cub watches his siblings aside a termite mound in the Masai Mara. Females typically have litters of two or three cubs that are weaned by the age of nine months. Cubs are extremely playful with both their littermates, other cubs and adults within their pride.
©Rich Beckman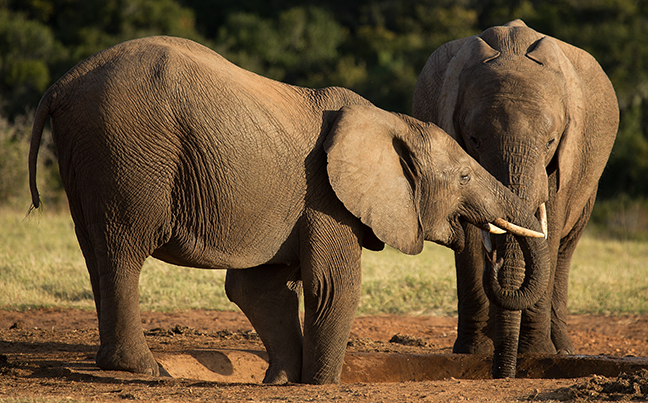 An elephant squirts water into his month at a watering hole in Addo Elephant National Park. Elephants don't drink through their trunks, but use their trunks to suck up to three and a half gallons of water at a time and then squirt it into their mouths. An elephant can smell water up to three miles away.
©Rich Beckman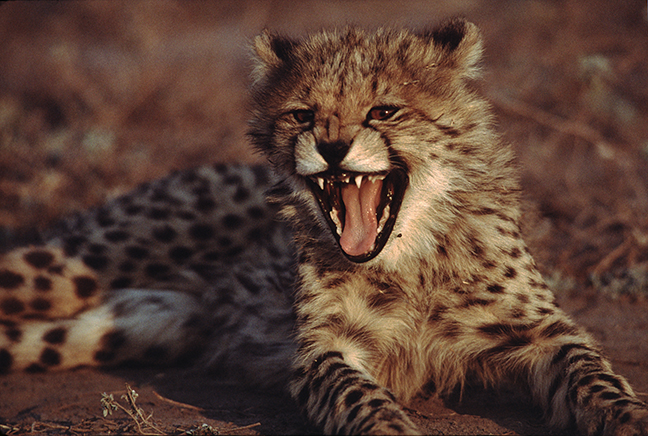 A cheetah cub rests in the Masai Mara as his mother hunts. Cheetah cubs nurse for about three months but begin supplementing their diet with meat before they are a month old. When they are about six weeks old, they begin to accompany their mother when she hunts.
©Rich Beckman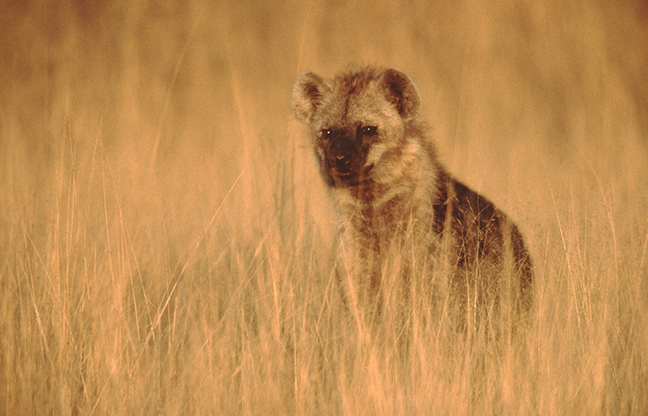 A Spotted Hyena cub hides in the grass on Pom Pom Island. Although the average litter has only two cubs, they are highly competitive with the dominant cub sometimes even killing its weaker sibling. Females stay with their birth clan, but the males leave upon maturity at around age three.
©Rich Beckman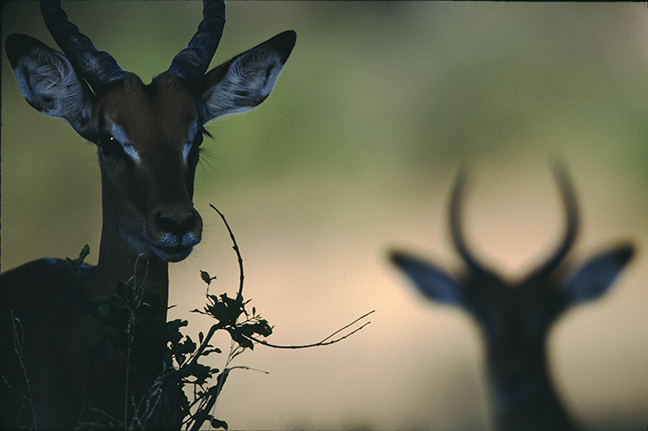 A male Impala browses at dusk in the Masai Mara. Impalas are known for thier unique and impressive leaping ability. They can jump to heights of ten feet covering distances slightly over 30 feet. Impala are an important food supply for lions, leopards, cheetahs, wild dogs and hyenas.
©Rich Beckman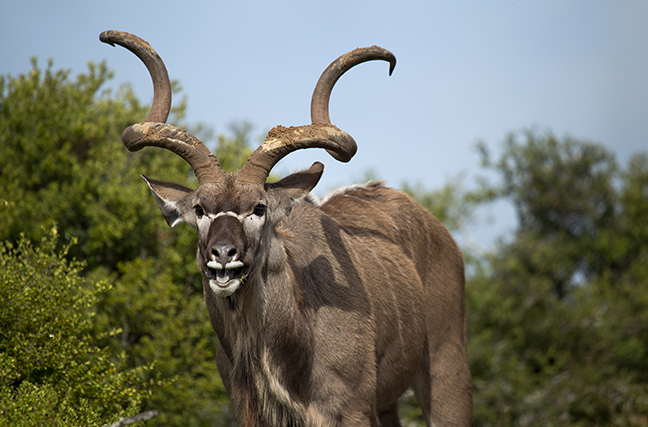 A male Greater Kudu browses in Addo Elephant National Park in South Africa. Greater Kudu are not territorial. Adult males have home ranges slightly more than four square miles that usually encompasses the ranges of two or three female groups.
©Rich Beckman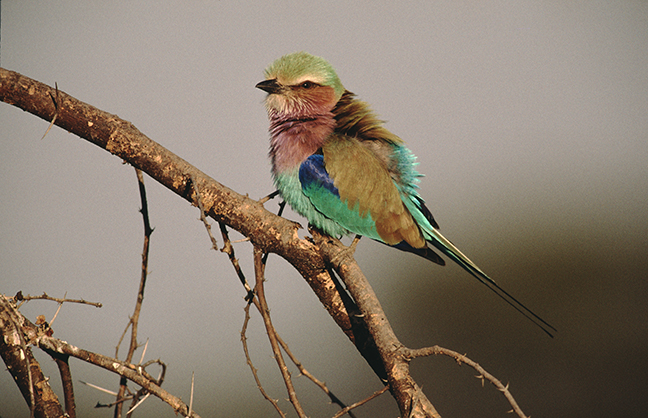 A Lilac-breasted Roller perched on a branch watches for prey in Amboseli, Kenya. The Roller is the national bird of both Kenya and Botswana. They are primarily insectivorous, swooping down and grabbing their prey in their beaks.
©Rich Beckman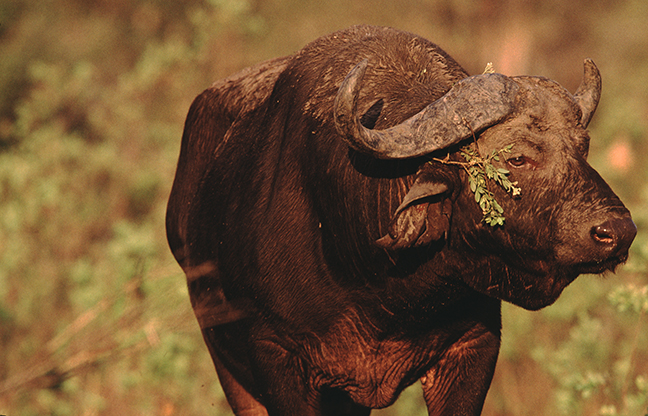 A Cape Buffalo in a protected region of the Selous. The Selous, named after big game hunter Frederick Selous, has one of the largest populations of buffalo in Africa and is the largest hunting area in Tanzania. Buffalo, as well as elephant, lion, leopard and plainsgame can all be legally hunted in the region.
©Rich Beckman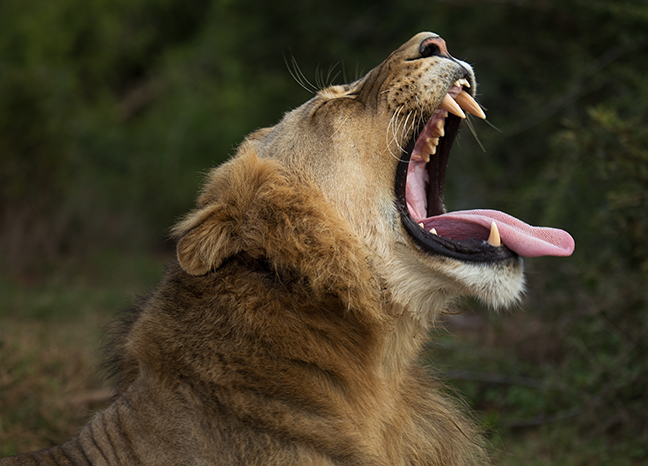 A young male lion lies along the Harvey Loop in Addo Elephant National Park. Six Lions from the Kalahari were released in the Addo Elephant National Park in 2003, where they used to roam freely until being hunted to extinction. There are now nine adult lions in the Park and all of the females are currently on birth control to prevent any increase in the population.
©Rich Beckman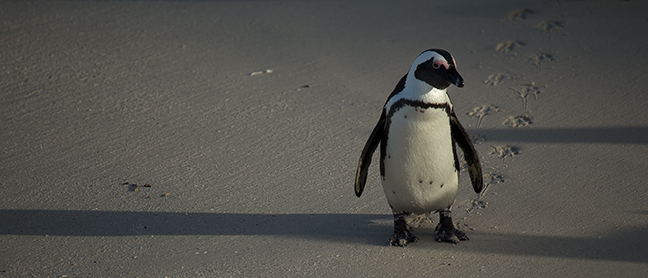 A lone African Penguin walks on Foxy Beach toward his burrow in Simon's Town on the Cape Peninsula in South Africa. The colony is one of only three mainland colonies in Southern Africa. The others are at Stony Point at Betty's Bay in the Overberg and at Sylvia Hill in Namibia.
©Rich Beckman